Post Office Reveals Stunning Aerial Photography Stamps For 2012
In 2012, the USPS will offer a range of Forever stamps titled "Earthscapes", which will show a series of 15 near-abstract photographs taken from the world around us.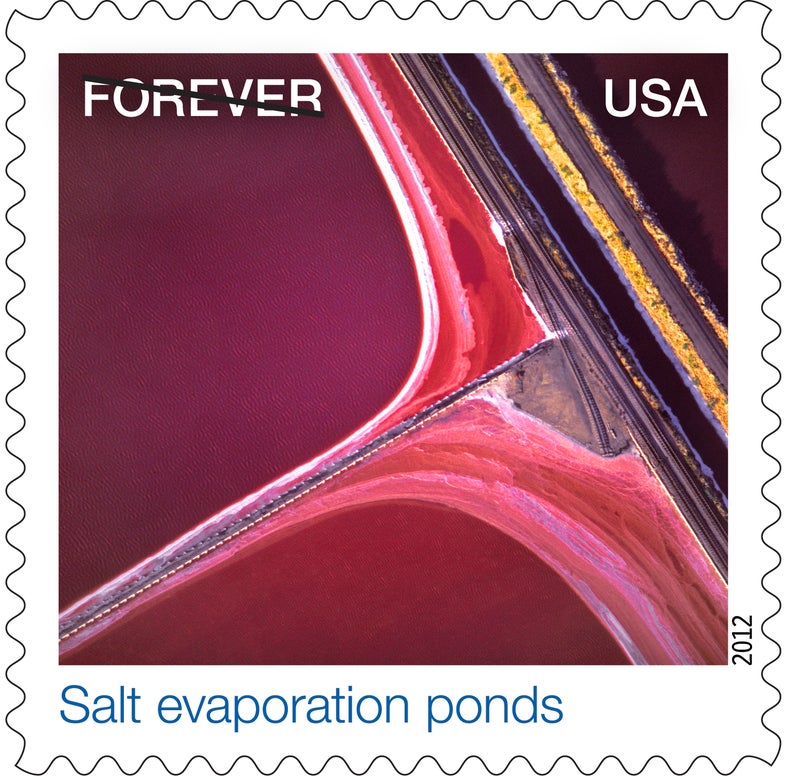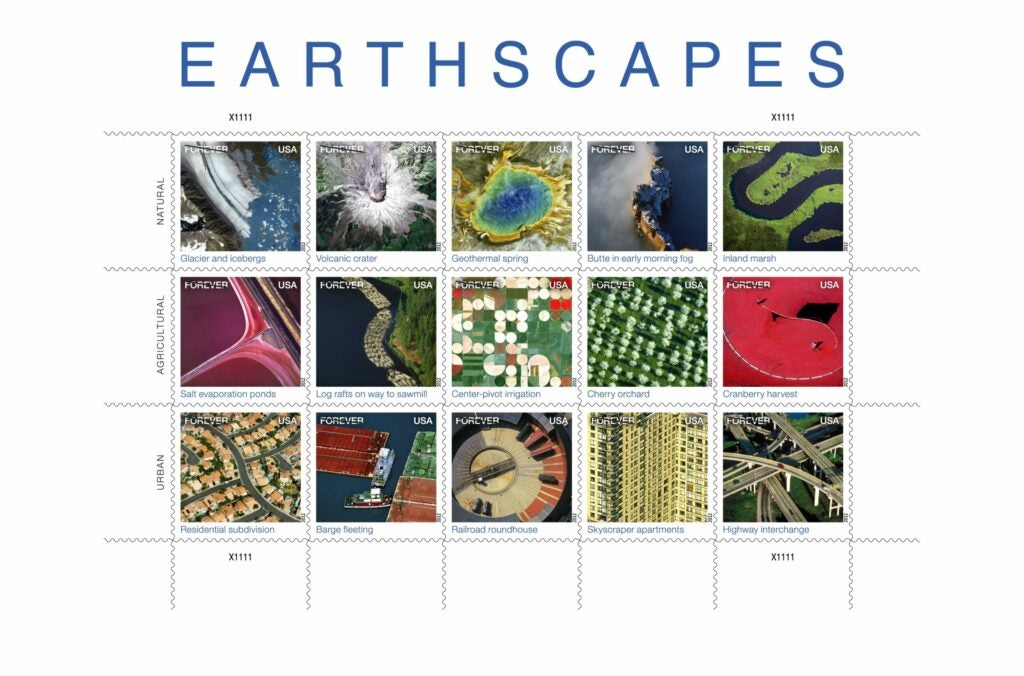 Nature stamps
In October of next year, the post office will reveal "Earthscapes" a set of fifteen stunning aerial photographs that border on the abstract. You can see a preview of five of them on the USPS's Beyond the Perf blog, or else just look at the set at the top of this page. The stamps are divided among three themes: the first row is natural, the middle agricultural, and the bottom urban. The images were chosen by art director Howard Paine to showcase designs or patterns and geographic diversity.
If you're interested in trying semi-abstract nature photography, check out our guide How To: Photograph Patterns in Nature for a rundown on how to capture images like this yourself — though you'll need a friendly local pilot if you're going to go the aerial route.
Full descriptions of each photograph and their photographer after the jump:
NATURAL
Glacier and icebergs:
Ice breaks from the foot of Alaska's Bear Glacier and becomes icebergs in a lake. Dirt and rocks picked up by the glacier when it moves downhill can be seen at the edges and center of the glacier and in some of the bergs. The image was captured by the IKONOS satellite.
Volcanic crater:
In Washington State, Mount St. Helens and its surrounding area continue to recover from the explosive eruption of May 1980. Shades of white and gray indicate still-bare slopes; dark "rivers" are deep channels cut by fast-moving flows of hot ash, rock, and gas. Green represents regrowth of vegetation. The image was captured by NASA's Landsat 7 satellite.
Geothermal spring:
At the center of Grand Prismatic Spring in Yellowstone National Park, water temperatures reach nearly 190 degrees F-too hot to support most life-but along the edges of the pool, bacteria and algae can thrive, as indicated by the colorful pigments and mats they produce. The photograph was taken by Jim Wark of Pubelo, CO.
Butte in the early morning:
Fog rolls in and around Stagecoach butte, one of the many red sandstone formations rising from the floor of the Monument Valley Navajo Tribal Park in southeastern Utah. Snow dusts the rugged crest of the butte. The photograph was taken by Jim Wark of Pubelo, CO.
Inland marsh:
A shallow creek winds through Blackwater National Wildlife Refuge on Maryland's Eastern Shore. Rich tidal marsh makes up much of the refuge's more than 25,000 acres, forming a haven for fox squirrels and bald eagles and a stopping-off point for ducks and geese migrating along the Atlantic Flyway. The photograph was taken by Cameron Davidson of Alexandria, VA.
AGRICULTURAL
Salt evaporation ponds:
Salt is harvested from seawater in evaporation ponds near San Francisco, California. As natural evaporation occurs, salinity levels increase and the concentrations of algae and other microorganisms in the water change, causing the ponds to take on vivid colors. The photograph was taken by Barrie Rokeach of Berkeley, CA.
Log rafts on way to sawmill:
"Islands" of wood-log rafts made up of harvested timber-travel by water toward an Idaho mill for processing. This older method of transport has largely died out. Today the timber industry relies on rail and roads to transport trees and tree products from forests to sawmills. The photograph was taken by Tom Brakefield of Hendersonville, TN.
Center-pivot irrigation:
Circular patterns on Kansas cropland show where center-pivot sprinkler systems have been at work. Red circles indicate healthy, irrigated crops; lighter circles represent harvested crops. Corn, wheat, alfalfa, soybeans, and grain sorghum account for most of the irrigated acreage in Kansas. The stamp art is a detail of an image captured by NASA's Landsat 7 satellite.
Cherry orchard:
Spring is cherry blossom time, and at this cherry orchard in Door County, Wisconsin, every tree seems to be in bloom. Door County is known for its tart red cherries, usually harvested from about mid-July to mid-August. The photograph was taken by Richard Hamilton Smith of Park Rapids, MN.
Cranberry harvest:
A Massachusetts cranberry bog holds a bounty of ripe red fruit. During the fall harvest, growers flood bogs, then mechanically churn the water to dislodge cranberries from their low-lying vines. They round up the floating fruit with booms, and convey it to receiving stations for cleaning. The photograph was taken by Steve Dunwell of Boston, MA.
URBAN
Residential subdivision:
Suburbia in Clark County, Nevada-the state's most populous county-provides a maze of pavement, sidewalks, and single-family homes. In this desert development, swimming pools and clumps of trees provide some relief from the heat of summer. (Stock photo. photographer contact info not available)
Barge fleeting:
A pair of towboats "wrangle" commercial barges in the Old River barge fleeting area near the Houston Ship Channel in Texas. The channel allows access from the Gulf of Mexico to the Port of Houston, a major industrial center. The photograph was taken by Jim Wark of Pueblo, CO.
Railroad roundhouse:
At the Steamtown National Historic Site in Scranton, Pennsylvania, early 20th-century steam locomotives undergo maintenance inside the restored railroad roundhouse and museum. A turntable turns locomotives around and provides access to the roundhouse service stalls. The photograph was taken by Jim Wark of Pueblo, CO.
Skyscraper apartments:
Endless rows of balconies and windows dot the Manhattan cityscape. In this detail of a photograph, the camera's telephoto lens compresses the distance between the towers of a high-rise apartment complex on the Upper West Side. The photograph was taken by Jim Wark of Pueblo, CO.
Highway interchange:
In Miami, Interstate Highways 95 and 395 converge in a carefully engineered, multi-level interchange. Off-and-on-ramps convey traffic from one level to another, and from one interstate to another, at this intricate urban "crossroads." (Stock photo. Photographer name not available)