The WWII Color Photography From The Office of War Information
Color photography was still very rare in the early 40s, but the OWI produced an incredible series of photos to bolster morale during the beginnings of WWII.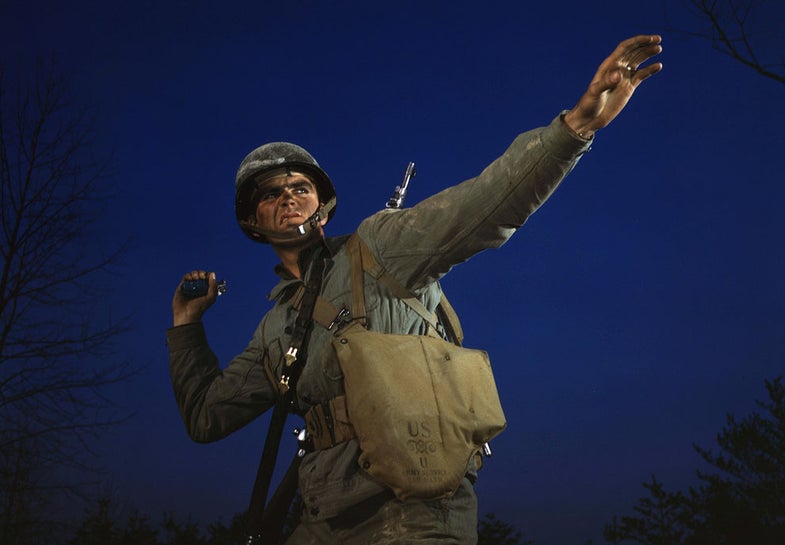 As part of the American war effort, the Roosevelt administration created the Office of War Information (OWI) to bolster the American spirit with patriotic imagery. These incredible early color photographs are available through the Library of Congress, but the Atlantic's In Focus blog has a great sampling of these images.
Part of what I love about these images is that they all have the original captions still attached — some of which show the "fighting spirit" of the old newsreels (like in the image above); while others show the now antiquated views of women in the workplace, like image 17, which says "with a woman's determination, Lorena Craig takes over a man-size job in Corpus Christi, Texas. Before she came to work at the Naval air base she was a department store girl. Now she is a cowler under civil service."
While almost all these photos were posed, they didn't use models or stand-ins, the subjects are all working at their real stations, doing their real jobs.
The color on these shots is absolutely fantastic, and still rare in 1942 when most of them were taken. The tones are magnificent, especially in shots like #6 which shows industrial flame being used to bend a pipe, or #16 where you can see the sun-burn line on the tank crew's chest.
[via Gizmodo]