This Week's Hottest Photography Trend: Giving Cameras to Primates
Tired of trying to get up close and personal with a gibbon? It seems the new cool thing to do is just give them your camera, and wait for the fame to roll in!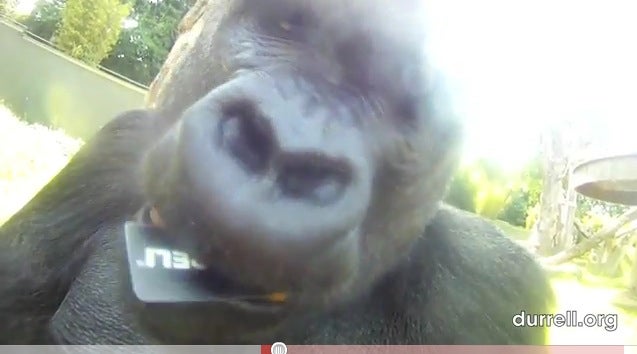 This whole trend started last week, when we heard a story of a black macaque that stole a photographers camera, and took an incredibly well-framed and focused shot of himself. The photograph spread like wildfire around the internet, prompting some people (us included) to question just how legitimate the story is, as it's an almost impossibly well-composed photograph. We would show you the photos, but then we might get an email from the lawyers of guy whose camera was stolen claiming he has the copyright to them, even though they were taken by a monkey.
Now, the UK's Durrell Wildlife Conservation Trust gave their silverback gorilla Ya Kwanza a very well protected video camera, resulting in the video you see above. Two cases in less than a fortnight of primates with cameras? It's official, we're calling it a trend. I expect to see every zoo in the world start handing out Flip camcorders to their lemurs and training the bonobos with SLRs. Just you wait.
Seriously though, when photographing potentially dangerous animals — which apes and monkeys definitely are — getting close enough to get a good shot can be extremely tricky. You can use a long zoom, rig up a camera on wheels, or just forget the fancy stuff, and give your camera to the beast — you might end up with something usable. Or a destroyed camera.
Meanwhile, Cooper the cat photographer remains unimpressed by these amateurs.
[via io9]