The Largest Ever Photograph Squeezed Into An Art Museum
The Great Picture is a famously huge photograph, the biggest ever made. So how do you fit such a large piece of art into a gallery?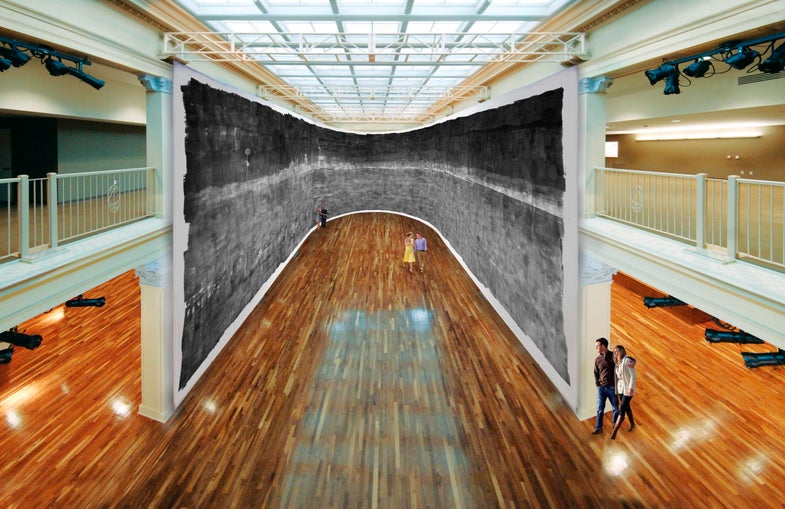 In 2006, a group of six artists calling themselves "The Legacy Project" undertook making the largest ever camera, and largest ever photography. They converted an entire aircraft hangar into a camera obscura, light proofing the entire building except for a single 6mm pinhole, and with a 35 minute exposure, produced the largest photograph the world has ever seen: The Great Picture. The rigging itself is a piece of specially treated cloth measuring 31 feet 7 inches x 111 feet, 3,505 square feet, and the image is 28 feet x 108 feet large.
So how do you get something that insanely large into an art gallery for a showing? This weekend saw the opening of The Great Picture at UC Riverside, and in order to fit it into the UCR Sweeney Art Gallery & Culver Center of the Arts, it had to be bent inside a two-story atrium — as seen in the artist's interpretation above. The photograph is so large that it has only been exhibited twice before now.
The exhibition is divided into three parts: the image itself, a look at the process and testing of creating the photograph, and an exhibition of work by The Legacy Project artists.
In case you can't tell from the shot above, the photograph is of the Marine Corps Air Station El Toro (MCAS El Toro) in Orange County, the home of the abandoned jet hanger they used for the photo.
[RESOURCE MAGAZINE, via PetaPixel]