Canon Using Self-Contained Wireless Image Transmission System at U.S. Open Golf Tournament
Card runners have officially been replaced by an advanced wireless system
When you're a high-level photojournalist covering an event like the U.S. Open golf tournament, speed is essential. For a long time, photographers relied on people called card runners, who would portage memory cards full of images between shooters and on-site editors who would sort through the images — usually at lightning speed — and select the photos to post to the wires. Canon shooters at this year's tournament, however, have gone wireless, leaving the card runners with little to do.
Canon gave us a little inside info on the rig that's currently out on the course. It starts with a standard WFT-E2 II A Wireless File Transmitter (available for about $750) attached to a Canon 1D Mark IV body. Because the 492-foot range isn't nearly enough to cover an entire 100+ acre golf course, they needed to come up with a long-throw solution.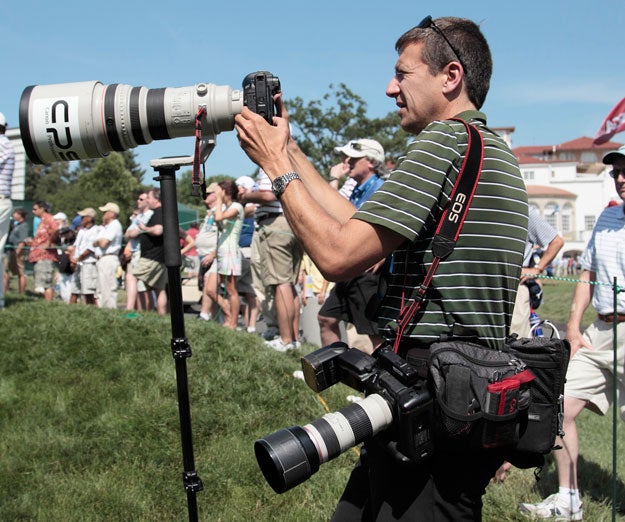 "Professional photographer Darren Carroll shoots and transmits images using Canon EOS-1D Mark IV camera and the Canon WFT-E2 II A wireless file transmitter unit from the U.S. Open Championship at Congressional Country Club in Bethesda Md."
The resulting rig consists of a battery-powered cellular modem and wireless router that automatically transmits files back to the clubhouse as they're captured. All of the gear is small enough to fit into a Think Tank water bottle bag and has enough juice to last for an entire day of shooting.
Aside from the hardware, the system also relies on IBM's PicStream platform for nearly immediate delivery of images over USopen.com and other media outlets. The PicStream interface is actually a very cool way to experience the photos, making good use of the immediately available images.
While a set-up like this (and the support infrastructure required) is still well out of reach for most photographers, it's very promising to see true high-end wireless file transfer systems becoming a reality. The thought of having Eye-Fi like features on a pro-level body with this kind of performance is enough to get us drooling. Even if you don't have an editor waiting impatiently for your images, it would still be fantastic to know that your images are automatically backed up in the instance of a card failure.