The New York Times Talks Wartime Photography, Freelancing, and Ethics With Wounded Journos
New York Times executive editor Bill Keller met with photojournalists Joao Silva and Greg Marinovich at a hospital in New York, and discussed the dangers and changing nature of the business.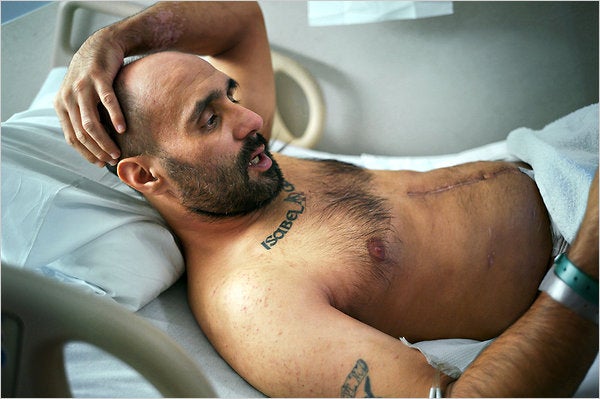 In the wake of death of photojournalists Tim Hetherington and Chris Hondros in Libya, there's been a massive upswing in discussions about the role of wartime photojournalists. Over at the New York Times, executive editor Bill Keller met photographers Joao Silva and Greg Marinovich at the Walter Reed Army Medical Center. Silva lost his legs and much of his intestinal tract when wounded working in Afghanistan last October. The interview between the three men is an incredible one. It lead to an article that was published in the New York Times magazine, but the full-length Q&A discussion here is a must-read
I'm loathe to try and summarize such a lengthy and powerful article in any way. It's well worth it to set aside some time, and read their views on the dangers and joys of conflict journalism, on ethics and embedding, on how freelancers are treated by their clients — especially when injured—and the ever-shifting role of citizen journalism. It's an excellent piece, especially seeing as Silva and Marinovich wrote a book called The Bang-Bang Club about their time during the end of Apartheid in South Africa working with Ken Oosterbroek and Pulitzer winner Kevin Carter, a story which subsequently got turned into a film which just premiered at New York's Tribeca Film Festival. All three men have spent many years as journalists, and they have tremendous insight into that world.