Movie About The Death Of Kodachrome Reverts Hands To Fox
A planned movie about the final days of Kodachrome film has changed studios from DreamWorks to Fox.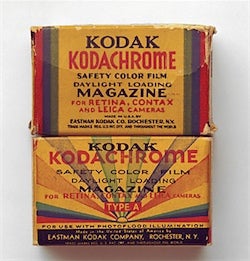 Kodachrome
Earlier this month, news surfaced about a new film which would be set against the final days of Kodachrome film. Loosely set amongst the happenings of a New York Times piece from late 2010, the movie's plot was to focus on a father and son who take a road trip to Dwayne's Photo in Kansas, the last place on the planet able to process the legendary film. Kodachrome film was produced from 1935-2009, but was cancelled due to declining interest and the rise of digital photography.
The script was written by Jonathan Tropper, and rumored to be directed by Shawn Levy (Night at the Museum, Date Night). However, there's been another kink in the production, as detailed by Variety magazine. The original reports indicated that DreamWorks would be the studio behind the film, but it appears that now Fox has swooped in and taken it. Levy has a first-look deal with Fox, and the film was first pitched to Fox 2000, and they declined. The film was then offered to DreamWorks who picked it up, at which point Fox heard of the deal, and reclaimed the picture.
The move has "yanked [the project] back onto its development slate, where it stands today."
[via Steve's Digicams]