How Jason Groupp Set a World Record With 300 Flashes and a Single Photo
A new benchmark has been set in lighting excess.
NYC-based photographer, Jason Groupp is serious about off-camera flash. He uses it every day when shooting, teaches seminars about it and, well, even dreams about it. So, it doesn't really surprise us that he's in the Guinness Book of World Records for firing the most flashes to make a single photograph. What does it take to fire 300 flashes at the same time? A lot of work.
Where did the idea for the record originate?
I actually teach lighting and I was going to be a mentor at a program called After Dark. They wanted to do something really cool and asked me if I had any ideas. As nerdy as it sounds, I actually had a dream about setting the world record of most flashes. They were actually really excited when I told them about the idea so we got started on it.
What kind of gear were you using for the shoot?
We used the LumoPro LP160 flashes from Midwest Photo Exchange. I use them in my regular shooting, so it was great to be able to use them in this project, too. We had to go through and test all 300 of them before the attempt, but we didn't actually have to switch any of them out, which is great. They were all fired by Radio Poppers.
Did you have to have a receiver for each flash?
Each light has an optical trigger on it, so I thought we might be able to just hook up two or three of them to receivers and trigger them that way, but that wasn't working and we realized we needed to have a receiver for each one. Then we heard some rumblings on the forums that people we going to come down with their transmitters and mess with us a bit, so we had to make sure that every one had a unique frequency.
You're in the picture, did you actually fire the shutter?
I had to take the picture myself for it to count, so I was using a wireless remote and that actually caused some interference.
How did you manage the exposure with that much lighting firepower?
We had to wait until a time of day when the natural light would be able to match the light coming from all of those flashes, so we waited until 5:30 or 6:00. In the final photo, we're lit mostly by natural light. When we did the light readings, we were at F/6.3 or F/8 with a shutter speed of 1/200 second since that's as fast as my Canon will sync. I was a little worried about that 1/200 second cap.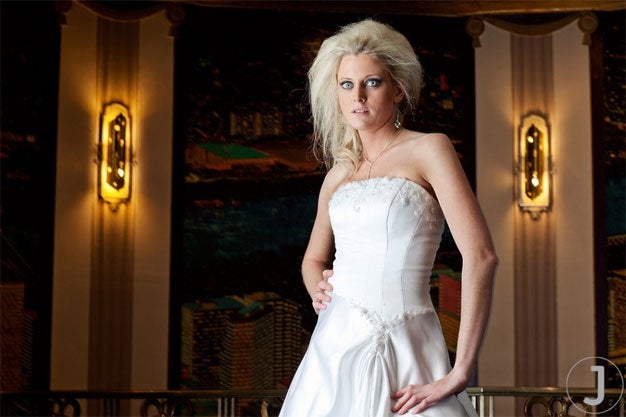 A portrait using one of the flash panels as if it was a giant soft box. Credit: Jason Groupp
How about composition?
We weren't expecting to have to have all 300 flashes in the frame, but the Guinness people needed to have proof that they all fired. It wasn't the shot I had in mind. It was also a little stressful because I thought I was only going to get one chance. The woman was nice and willing to give us a few chances, but we got it on the first try.
There has been some grumbling in the photographic community about how I took the easy way out just to get the record. If I was going to do it again, I'd do the final shot differently, but this was really about setting the record. It was important to me to get the name of the National Underground Railroad Freedom Center in there. They basically let us take over for 24 hours. We really appreciated it.
What became of all that gear?
They were going to sell the flashes, so not only did we have to break everything down, but we had to put them all back in the packaging. That's 1,200 batteries, 300 cold shoes, 300 connector cables — it took us hours. They gave me a couple of flashes and they gave everyone on the crew one as well as a Radio Popper, which was really nice.
If someone breaks the record, are you going to try again?
If someone else decides to break the record and do the shot differently, then it's great for them. I don't think I need to do it again, though, even if the record is broken. We did it first and we're happy with that. I'd like to try some other big ideas — more things I can do just because I can. I've been thinking about taking 300 photographs of myself on the Brooklyn bridge, all taken by me. I keep thinking about fun things I can do, even though the industry might not approve since we tend to take ourselves too seriously at times.
**
**