Photojournalists Tim Hetherington and Chris Hondros Killed While Covering Violence in Libya
Photojournalists Michael Christopher Brown and Guy Martin were also injured in the attack that took place Wednesday in Misurata, Libya.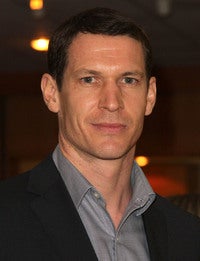 Tim Hetherington
Photojournalist Tim Hetherington, at the 83rd Annual Academy Awards – Nominated Docs! Reception on February 23, 2011 in Beverly Hills, Calif. His film Restrepo was nominated for a Best Documentary Feature.
UPDATE: Getty is confirming that chirs Hondros has also died from his injuries.
The photojournalism community is shaken by the news that esteemed photojournalist and filmmaker Tim Hetherington has died during a firefight in Misurata, Libya, while photographing the Libyan rebels' struggle against Muammar Gaddafi and his regime.
Photojournalists Michael Christopher Brown and Guy Martin are also said to have sustained grave injuries during the same attack in which their colleagues were killed.
Hetherington is well known photojournalist whose work covering conflict around the world often appears in Vanity Fair. He was nominated for an Oscar last year for the documentary he co-directed with journalist Sebastian Junger, titled Restrepo, which singles in on a platoon of American soldiers serving in Afghanistan.
According to his Website, "His interest lies in creating diverse forms of visual communication and his work has ranged from multi-screen installations, to fly-poster exhibitions, to handheld device downloads. Known for his long-term documentary work, Tim lived and worked in West Africa for eight years and has reported on social and political issues worldwide."
Chris Hondros is a Pulitzer Prize-winning photojournalist who often shoots for Getty Images and whose work appears in The New York Times, Newsweek, The Economist and many more. We will keep you updated as more definitive information on his condition and the conditions of Martin and Brown are released.