Early, Silent Documentary Inside the First Leica Factory
A documentary by Oskar Barnack shows the work going on in the very first Leica factory.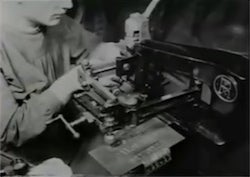 This short documentary was shot some time between 1925 and 1932, when the Leica 1 was still in production at the Leitz factory in Kalsmunt. It was shot by Oskar Barnack, called "the father of 35mm photography," who worked extensively for Leitz, and championed the cause of the portable 35mm camera. The video was released by Filmarchives Online, a European group that releases non-fiction films and moving-images online.
It's an incredible look at the work that went into creating those precision optics.
The movie shows off the creation of a microscope and a Leica 1 — and you can still track down the occasional functioning Leica 1 on eBay, though they don't go for cheap.
[via Leica Rumors, PetaPixel]