Video: Martin Schoeller Shoots the TIME 100
This video from TIME magazine shows a behind the scenes look at the photography for their annual TIME 100 list.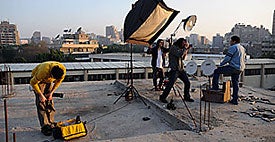 Every year, TIME magazine posts the TIME 100, their list of the 100 most influential people globally, accompanied by short descriptions, photographs, and illustrations of of the subject. This year they've also released a short behind the scenes video as photographer Martin Schoeller travels the world to take photos of Wael Ghonim, Amy Chua, and Grant Achatz. Not only did Schoeller have to fly around the planet to take the photos, he had to deal with Egyptian curfews, live tigers, angry pheasants — and he shot it all with film!
While there isn't much technical info in the video, you can catch glimpses of the lighting set-ups and you also get a peek at the "hurry up and wait" lifestyle associated with high-profile photo shoots. Some might think sleeping in vans and on strange couches for the sake of great pictures sounds crazy. We think it sounds just wonderful.