Backstory: Free Falling
Jonathan Lucas shoots urban acrobats in London.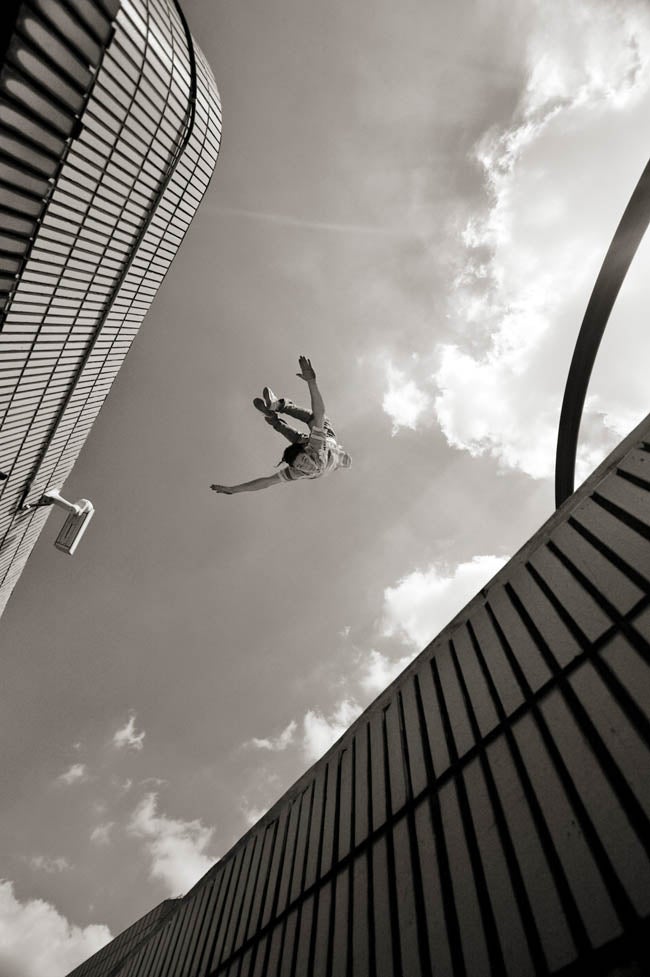 I was a skateboarder, so I've always had an affinity for concrete. I learned about parkour and freerunning from a documentary and have been photographing it since. It isn't like photographing other sports—parkour melds perfectly into its environment. But then it's not really a sport, more of a philosophy of movement.
Daniel Ilabaca is one of the leading freerunners—he stands out in his ability to remain self-aware and conscious of detail even in the midst of distracting physical activity. So one day I invited him down from Liverpool to do a photo shoot.
It's far better to shoot a traceur as naturally and spontaneously as possible, so I let Daniel do his thing around the East End. We ended up at the Old Street roundabout and clambered up the stairwell.
I noticed that this vantage point offered great leading lines and view of the CCTV camera looking the "wrong" way. I was hoping to create a sense of confusion about how he was getting from one point to another.
So, with my wide-angle lens and my Canon EOS 5D Mark II set to aperture-priority, I started tracking him from here. He did a backflip, I snapped, and we moved on.