SanDisk Launches 45MB/s UHS-I SDHC Card
Available in a variety of sizes, the cards hit stores immediately.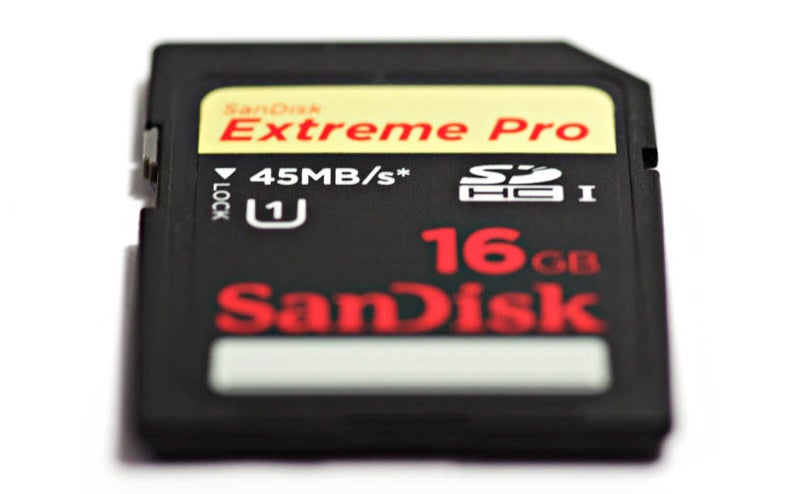 SanDisk's newest SDHC memory card, the Extreme Pro UHS-1, is capable of reaching transfer speeds of up to 45MB/s, making it the fastest memory card in the world—it also meets the newly released SD 3.0 specification.
In addition the card also meets UHS Speed Class 1 video requirements, offering 10MB/s minimum sustained speeds, making it capable of easily capturing full 1080p HD video and 3D video. It is specifically built to work with UHS-enabled cameras, and although the only one currently on the market is the Nikon D7000, more bodies that offer this feature are said to be on their way. However it is fully compatible with any device capable of reading the SHHC format.
We stuck one in a Nikon D7000, to put it to the test. Its opponent? The next fastest SanDisk card available, the 30MB/s SanDisk Extreme SDHC.
We started out by seeing how many Nikon RAW files each card could process in a highspeed burst before "hiccupping." Six tests, three for each card, revealed the same number, 10.
Next we switched our image quality on the Nikon D7000 to Fine jpgs, the largest jpg file one can shoot. In three high-speed burst tests, the 45MB/s card processed 29, 28 and 30 jpg's, before the camera "hiccupped". The 30 MB/s card processed 25, 23 and 23 jpg's in its three tests before "hiccupping".
Although the ability to shoot an extra four jpg's in a burst may not seem like a lot, it could be the difference of getting that perfect photo of the game-winning touchdown pass and just missing it.
But how about upload speed?
We did two tests to see how long it would take each card to upload an identical 1.01 gigs (50 RAW files) in our Sandisk Imagemate All-in-One card reader. Oddly enough, it took the 45MB/s card 53 seconds both times to upload the images, while it only took the 30MB/s card 50 seconds both times to upload the same images. However this can likely be attributed to the fact that the reader used has not been optimized to be fully compatible with UHS.
Perhaps when we get our hands on an UHS-enabled reader, we will give it another test, but for, we think it is safe to say that, in terms of shooting still, the 45MB/s card offers little advantage over a 30MB/s card. Ultimately though, it seems that the added speed is more for those who shoot video to take advantage of, rather than still photographers.
The SanDisk Extreme Pro UHS-1 card is available now for prices ranging from $109.99 for an 8GB card all the way to $349.99 for a 32GB card. For more info, check out SanDisk.com.