Samsung WB700 Is a Slim Super Zoom
Big zoom in a small body.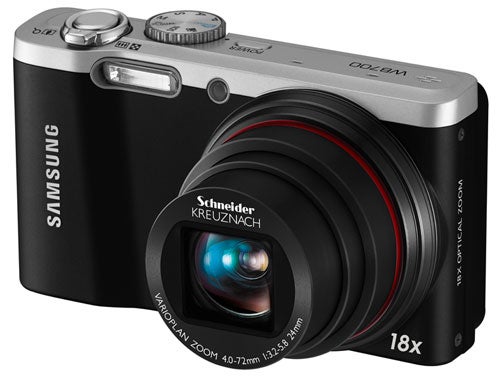 At 24x, Samsung's latest super zoom isn't the longest in its line-up — that title belongs to the 26x HZ50W — but it's an interesting option for those not interested in the traditional super zoom form factor.
It's worth noting right up front that the "24x" number is made up of 18x of optical zoom and 1.3 Smart Zoom, which lies somewhere between optical and the generally useless digital zoom. Otherwise, the stablized Kreuznach lens starts at 24mm and goes to 432mm before the Smart Zoom kicks in. That's still an improvement over the 15x offered by its predecessor, the WB650.
Behind all that glass, is a 16 megapixel CCD sensor with optical stabilization. It can capture 720p HD video, the same as its predecessor, but the Geotagging Samsung was so proud of on the WB650 seems to have gotten lost somewhere during the upgrade process. Features that did make the jump include full manual controls, RAW capture, smart auto mode and a slew of in-camera creative modes for tweaking.
It will be available starting in April for $299, at which point we'll be very interested to get our hands on one and see just how far reaching that zoom really is.