Samsung NX10 Gets i-Function Via New Firmware Version 1.20
If theres the way it should be.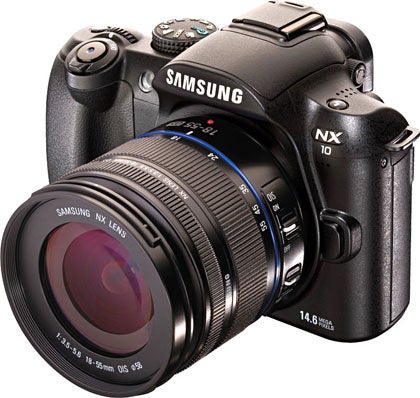 If there's currently a Samsung NX10 residing in your camera bag, you might want to bust it out and bestow upon it the new firmware that Samsung has just released. The big draw for firmware version 1.20 is that the NX10 will now be compatible with Samsung's i-Function system, which lets you control crucial camera settings (aperture, shutter speed, ISO and white balance, etc) right from the camera's lens. i-Function was first debuted with the NX100 interchangeable lens compact, which we got some extensive hands-on time with at Photokina.
The NX10 will now work with the new 20-50mm zoom and 20mm prime pancake lenses, which make use of the new Lens Distortion Compensation system. Finally, the new firmware also makes the NX10 compatible with the GPS tracker, which adds geotags to images, complete with city names.
If you want to make the upgrade, you can download it at the Samsung site. Then you can take a moment to thank Samsung for being so awesome and bringing their cool new tech to slightly older models. That's the way it should be.