Samsung PL90 has a built-in USB connector
Samsung really seems to have sympathy for people who hate cords. Last week they expanded their line of Wi-Fi-equipped cameras … Continued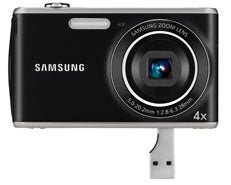 Samsung really seems to have sympathy for people who hate cords. Last week they expanded their line of Wi-Fi-equipped cameras with the ST80 and now they have debuted the PL90 with its built-in USB connector. The featureset is fairly consistent with what you could expect from a $150 camera. A 12.2-megapixel sensor is complimented by a 2.7-inch (230k pixel) screen and 4x optical zoom. It also records SD video and is loaded up with an arsenal of Smart Features like Smart Auto, Smart Album (letting users navigate their on-board images by date, time or color) and the Perfect Portrait System, which includes facial, blink and smile recognition.
But, the differentiating factor is the USB jack that swings out from the bottom of the camera, similar to the one you'd find on the Flip video cameras. Samsung claims that you can plug it into just about any computer to instantly share photos. It's not quite as elegant as a wireless solution, but it does offer the significant benefit of being able to charge the camera using power from the computer. While getting a full charge will probably take significantly longer than just sticking the battery in the charger, it's always nice to have options when it comes to power.
We haven't had a chance to go hands-on with a unit yet, but we will be interested to see just how durable that little USB arm actually is.