Samsung ST80 compact cameras has Wi-Fi
Just days after pulling back the curtain on two new DualView models, Samsung has announced the ST80 connected compact. The imaging specs are all very familiar, including 3x optical zoom, a 14.2-megapixel sensor, a 3-inch touch screen and the seemingly omnipresnt ability to capture 720p HD video. Its defining feature is its ability to connect to the web using its built-in Wi-Fi, which can be used to e-mail images or upload them to popular Internet destinations like Facebook, Picasa and Youtube (f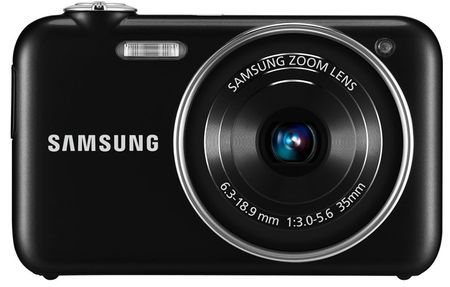 Just days after pulling back the curtain on two new DualView models, Samsung has announced the ST80 connected compact. The imaging specs are all very familiar, including 3x optical zoom, a 14.2-megapixel sensor, a 3-inch touch screen and the seemingly omnipresnt ability to capture 720p HD video.
Its defining feature is its ability to connect to the web using its built-in Wi-Fi, which can be used to e-mail images or upload them to popular Internet destinations like Facebook, Picasa and Youtube (for video, of course). It's also DNLA compliant thanks to Samsung's AllShare technology, which means it can communicate with other connected devices around the home like HDTVs.
Release is slated for September with a price tag set at $250. The price seems reasonable, but it does get a little confusing when you consider the fact that you can get Samsung's older CL65 for about the same price or even less. While it has been around for almost a year, the CL65 covers most of the ST80's bases, like 720p HD video and Wi-Fi connectivity, but it also has Bluetooth, GPS with geotagging, 5x optical zoom (compared to 3x on the ST80) and an extra .5″ of touch screen real estate.