Panasonic prepping 3D lens for Lumix G-series cameras
While the war over the long-term viability of 3D technology rages on in electronics stores and website comment sections, Panasonic … Continued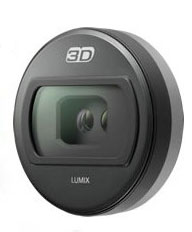 While the war over the long-term viability of 3D technology rages on in electronics stores and website comment sections, Panasonic seems to be determined to lead the charge of three-dimensional entertainment. Part of that strategy, which we will see by the end of 2010, includes a 3D lens designed for use with the Lumix G series. The announcement comes as a companion piece for the unveiling of their new $1,400 consumer-grade HDC-SDT750 3D camcorder, which is a first of its kind.
The lens pictured above is a prototype and may not represent exactly what will hit shelves later in the year, but the underlying concept is the same. Inside the body of the lens are two distinct optical systems that, when combined with a 3D image processing system, help the camera eschew the need for two sensors.
Past that, the press release is fairly sparse when it comes to details. There's no specific release date or, perhaps more importantly, price to consider. There's also no mention of which current models (if any) in the Lumix G series will gain the ability to move into the third dimension. We'll give some impressions as soon as we're able to get our hands on a working unit. FULL PRESS RELEASE POSTED AFTER THE LINK in case you want to read Panasonic's words yourself.