Panasonic Lumix LX5 is a compact built for performance
CLICK HERE FOR A GALLERY OF PRODUCT IMAGES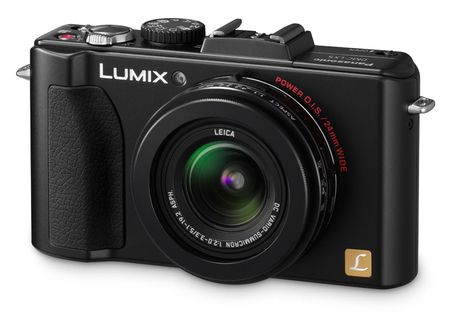 The latest last iteration of Panasonic's Lumix LX line, the LX3, garnered plenty of positive responses from shooters looking for a compact that can turn out high-quality images. Now, they're hoping its replacement will get the same warm reception.
On paper, the two cameras actually look fairly similar. Like the LX3, the LX5 sports a Leica DC Vario-Summicron lens with a maximum aperture of f/2 when zoomed all the way out. It did receive an upgrade in the focal length department, though, jumping to 3.8x and giving it an equivalent range of 24-90mm.
When it comes to the sensor, you get the same 10.1-megapixel CCD, but they managed to crank up the dynamic range. The real performance boost, however, comes in the form of the all-new Venus Engine FHD image processor with a triple CPU in order to increase speed and cut down on noise.
Perhaps the biggest additon to the spec sheet is the inclusion of an HD video mode. The LX3 lacked video of any kind, so the jump to AVCHD Lite HD video is a substantial one. It even gives shooters manual controls over settings like shutter speed and aperture, with the added bonus of being able to zoom while you're shooting.
CLICK HERE FOR A GALLERY OF PRODUCT IMAGES
From a body standpoint, they have actually gone out of their way to make the body—or at least parts of it—bigger. They thickened up the grip and added some function buttons to increase the ease of operation.
Aside from battery life that has increased to 400 shots-per-charge, the differences between the two models end there. It uses the same 3-inch, 460,000 dot LCD and stable of compatible accessories. The LX5 is scheduled to be available in late August with a price tag of $499.95, which is the same price that the LX3 brought when it launched.