Panasonic Lumix FZ100 is a 24x super zoom with a MOS sensor
Personally, I'm not crazy about the term "hybrid camera," but Panasonic has applied it to their new 24x superzoom, mainly … Continued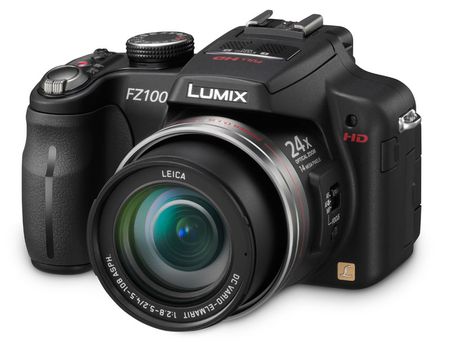 Personally, I'm not crazy about the term "hybrid camera," but Panasonic has applied it to their new 24x superzoom, mainly because it has the ability to capture 1080i HD video and its new MOS sensor. Its 24x lens (25-600mm 35mm equivalent) doesn't hurt, either.
Aside from its video-capture capabilities, the FZ100 does have some features worth bragging about. It can capture full-resolution, 14.1-megapixel images at 11 fps. That number jumps all the way up to 60 fps if you're willing to drop down to 3.5-megapixels.
On the back, you'll find a versatile 3-inch, 460,000 dot free-angle LCD display. Inside, you'll find the increasingly familiar suite of shooting modes, including Intelligent Auto, face recognition, face detection, AF tracking and Intelligent Scene Selector. Of course, you also get the POWER O.I.S. system to help cut down on jiggle, especially when you're stretching way out to those long focal lengths.
It will be available in late august for a suggested retails price of $499.95.