What's This: JPEG Profiles
This relatively new icon appears on the Pentax K-7 body and lets you choose JPEG presets that can adjust overall image characteristics. Where It Is: On the K-7's four-Way controller switch. Press to invoke what Pentax calls image finishing tones. (Other makers have different names, such as Canon's Picture styles and Nikon's Picture Control.) How It Works: The tool lets you process your JPEGs for a variety of looks similar to those of different films. How To Use It: Select an image finishing tone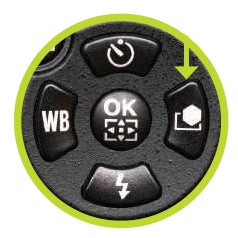 This relatively new icon appears on the Pentax K-7 body and lets you choose JPEG presets that can adjust overall image characteristics.
Where It Is: On the K-7's four-Way controller switch. Press to invoke what Pentax calls image finishing tones. (Other makers have different names, such as Canon's Picture styles and Nikon's Picture Control.)
How It Works: The tool lets you process your JPEGs for a variety of looks similar to those of different films.
How To Use It: Select an image finishing tone before you begin shooting. The range of presets include Bright, Natural, Portrait, Landscape, Muted, and Monochrome. Each preset is adjustable, so you can tweak the settings— e.g., saturation, contrast, sharpness—to your liking.