Quick Tip: Fun With Motion
Alvarez found that in normal light and at ISO 400, a shutter speed of 1/60 sec blurred the background nicely but assured a sharp subject.This picture I took of my daughter Pia looks like it might have been difficult or even dangerous to take, but it was actually just plain fun. I started by spinning her without a camera, just to get in practice. Then, I tried spinning (and photographing) a doll to find the perfect exposure and manualfocusing distance. Finally, it was Pia's turn to model, and I t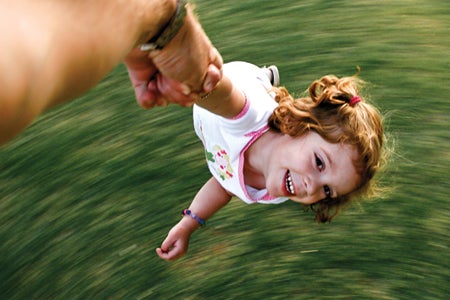 Alvarez found that in normal light and at ISO 400, a shutter speed of 1/60 sec blurred the background nicely but assured a sharp subject. 
This picture I took of my daughter Pia looks like it might have been difficult or even dangerous to take, but it was actually just plain fun.
I started by spinning her without a camera, just to get in practice. Then, I tried spinning (and photographing) a doll to find the perfect exposure and manualfocusing distance. Finally, it was Pia's turn to model, and I think you can tell by her expression that she enjoyed the role.
If you want to give this a try, shoot in evenly diffused light, preset your exposure and focus, and do it on a soft surface. (With a toddler in one hand and a camera in the other, you probably won't be able to break a fall.) I used a Canon EOS Rebel XTi and 17–85mm f/4–5.6 Canon EF IS lens.
— Rodrigo Alvarez
Find more Tips in our current issue of Popular Photography.