30-Second Photoshop: Double Up On Layers
The original image was overexposed, so we added an adjustment layer in Photoshop CS4 to darken it (detail, left). It still seemed too light, so we doubled the effect (right) with a quick keyboard shortcut. When creating an adjustment layer to alter, say, brightness or contrast, you can quickly double the effect if the adjustment doesn't go far enough (as in the photo at near right). simply press control + J (command + J on a mac) with the layer selected. it instantly duplicates the layer, doubl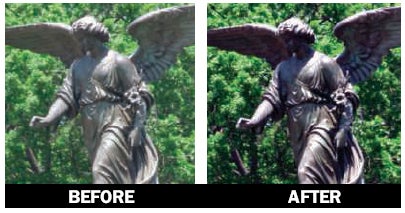 The original image was overexposed, so we added an adjustment layer in Photoshop CS4 to darken it (detail, left). It still seemed too light, so we doubled the effect (right) with a quick keyboard shortcut.
When creating an adjustment layer to alter, say, brightness or contrast, you can quickly double the effect if the adjustment doesn't go far enough (as in the photo at near right). simply press control + J (command + J on a mac) with the layer selected. it instantly duplicates the layer, doubling the effect of the first adjustment (at far right). if it's too much, dial down your new layer's opacity to achieve a look you like.
Find more Photoshop tips in our current issue of Popular Photography.