Inside The Guts Of An Olympus Lens
1. Front Lens Elements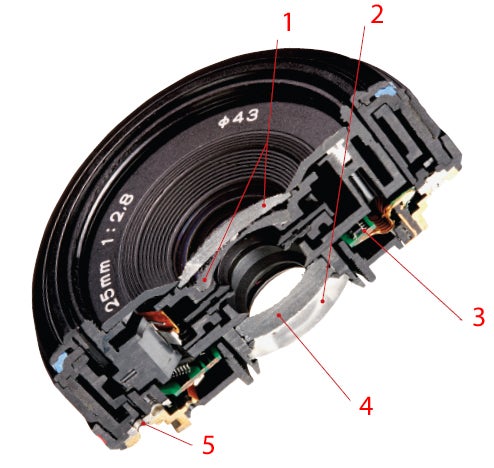 Pancake Lenses got their name for a reason: They're super-flat. Skinny means light, too. The Zuiko 25mm f/2.8 weighs only 3.35 ounces. Why? Thank its dual-sided aspherical glass element. The Olympus Four Thirds sensor format makes this the equivalent of 50mm on a DSLR, Four Thirds, or Micro Four Thirds body. And its images are far from flat.
This $225 (street) Olympus Zuiko 25mm f/2.8 ED pancake lens: light, flat, and impeccably sharp, according to our tests.
1. Front Lens Elements
These two elements have high-quality optical multi-coating for accurate color reproduction as the light enters the lens. Among other things, multicoating helps filter out ultraviolet rays that might otherwise add too much blue tone to your image.