New Gear: Booq Python Blur Bag
Official site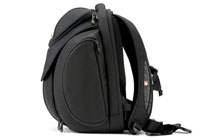 Booq's new SLR backpack is high on style. It can accommodate your laptop, as well as your camer and 2-3 lenses, so it's geared more toward the traveler than the hardcore pro. But, it also has a pocket specifically made for holding a large pair of headphones, which are necessary for long flights.
The exterior is made from the familiar ballistic nylon and is coated with a water repellent to keep your gear dry. A layer of semi-rigid EVA foam provides the protection from impact and the internal dividers can be folded away to make the main compartment bigger.
It has a rather unique shape as far as backpack style camera bags go, so it might be refreshing for the fashion-oriented shooters who are sick of the traditional, blocky shape.