Apollo 11 blasts off again for 40th anniversary
The JFK Presidential Library and Museum, along with AOL, will recreate the Apollo 11 lunar mission tomorrow, exactly 40 years after the 1969 launch. WeChooseTheMoon.org will use 400 NASA photographs and 44 archival videos to create an interactive, real-time experience for viewers. The site will combine the images with over 100 hours of audio transmissions, which will stream over a four-day period-- the same amount of time it took Apollo to reach the moon. The site includes extensive galleries th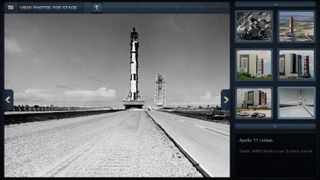 The JFK Presidential Library and Museum, along with AOL, will recreate the Apollo 11 lunar mission tomorrow, exactly 40 years after the 1969 launch. 
WeChooseTheMoon.org will use 400 NASA photographs and 44 archival videos to create an interactive, real-time experience for viewers. The site will combine the images with over 100 hours of audio transmissions, which will stream over a four-day period– the same amount of time it took Apollo to reach the moon.
The site includes extensive galleries that will become accessible as the mission unfolds. Eleven animated mission events will be rendered throughout the recreation and transmissions will be released in real-time through three Twitter accounts.
Apollo 11 blasts off tomorrow at 9:32 a.m. and will reach the moon on July 20.