Tip of the Day: Take Straighter Photos
To avoid ending up with crooked photos, slip a double level into your camera's hot shoe—the small bracket used for external flashes. Double levels are miniature versions of the bubble levels used commonly in carpentry. Most will attach both vertically and horizontally and will run you about $25 to $80. They'll help you get straight horizons in your landscape shots and are great for shooting architecture and panoramas. Users say the time saved rotating and cropping pictures in Photoshop makes thi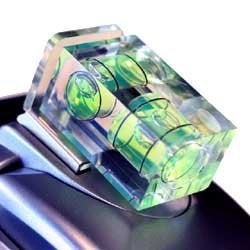 To avoid ending up with crooked photos, slip a double level into your camera's hot shoe—the small bracket used for external flashes. Double levels are miniature versions of the bubble levels used commonly in carpentry. Most will attach both vertically and horizontally and will run you about $25 to $80. They'll help you get straight horizons in your landscape shots and are great for shooting architecture and panoramas. Users say the time saved rotating and cropping pictures in Photoshop makes this gizmo well worth the surprising price.
_ _
Adapted from The Digital Photography Book by Scott Kelby (Peachpit Press, 2007; $20)
Photo from Amazon.com.