Sony Releases Three New Entry-Level Alpha DSLRs, Four New Lenses
Sony is giving the Alpha line a serious boost at the low-end with the A380 ($850 kit with DT 18-55mm F/3.5-5.6 lens), A330 ($650 kit) and the A230 ($550 kit). The A230 is predictably the lowest model on the totem pole, sporting a 10.2-megapixel sensor, but breaks the one-pound barrier with its 15.9-ounce weight. The 10.2 megapixel A is an update to the older A300 while the 14.2 megapixel A380 replaces the A350. The A380 and A330 use the Quick Autofocus Live View system with a 2.7-inch LCD that t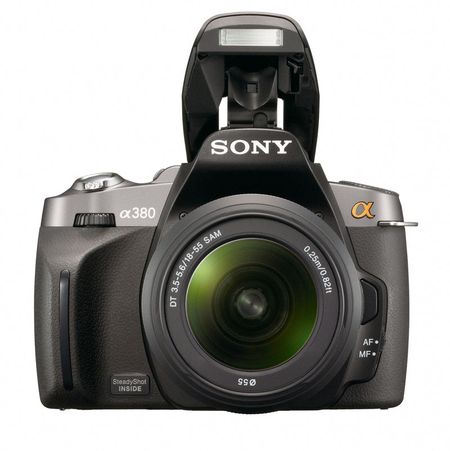 Sony is giving the Alpha line a serious boost at the low-end with the A380 ($850 kit with DT 18-55mm F/3.5-5.6 lens), A330 ($650 kit) and the A230 ($550 kit). The A230 is predictably the lowest model on the totem pole, sporting a 10.2-megapixel sensor, but breaks the one-pound barrier with its 15.9-ounce weight. The 10.2 megapixel A is an update to the older A300 while the 14.2 megapixel A380 replaces the A350.
The A380 and A330 use the Quick Autofocus Live View system with a 2.7-inch LCD that tilts up and down. They can't quite compete with the screen acrobatics of Nikon's D5000, but it's an improvement over previous models. Each new body also has the SteadyShot INSIDE image stablizing system, which is welcomed on cameras that weigh so little.
To compliment their new bodies, they also have a bevy of affordable new lenses that are just about ready to go, including a DT 18-55mm F/3.5-5.6 ($200), a DT 55-200mm F/4-5.6 telephoto zoom ($230), a DT 50mm F/1.8 ($150) and a DT 30mm F/2.8 macro ($130).