Book Review: Edward Steichen: In High Fashion, The Conde Nast Years 1923-1937
(continued after jump)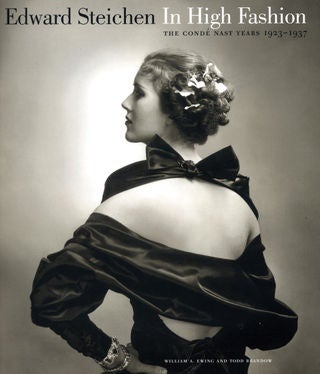 A photographer's photographer, Edward Steichen (1879-1973) had his hand in both fine art and commercial photography for most of his productive career, which coincided with still photography's rise as one of the defining media of the 20th Century.  While critics slammed his 503-image 'Family of Man" exhibition for its sentimentality, it was nevertheless the most influential photo exhibition in history, ultimately seen by almost nine million viewers. The show, curated by Steichen during his stint as Director of Photography at the Museum of Modern Art (1947-1962) in New York City, and its phenomenally successful book, were in some respects the pinnacle of his career.
Long before "Family of Man," however, this dynamo had an equally important impact on the history of photography, when, under the tutelage of Alfred Steiglitz, he became a driving force in Steiglitz's Photo Succession movement.  Ultimately, Steichen would become the single greatest contributor to Steiglitz's "Camera Work" magazine, among the day's most influential publications recognizing pictorial photography as a fine art. Steichen was also instrumental in the success of the famous 291 gallery, accounting for more than 50% of the Gallery's sales in its first year, with some prints commanding unequaled prices of over $50.  (Given that, it's not surprising, that, in modern times, the highest price paid for a single photograph, nearly $3 million, went for a Steichen image made in 1904.)
Arguably, Steichen's most important period, however, and the subject of a revealing new monograph, "Edward Steichen: In High Fashion, The Conde Nast Years 1923-1937," was his stint as chief photographer for Conde Nast, and its influential titles, Vanity Fair and Vogue.  For the former he produced a treasure chest of era-defining celebrity portraits (Garbo, Churchill, DeMille, Gary Cooper, and dozens more), and for the latter, alluring fashion photography that, for the first time in history, would become an engine for selling magazines on a mass market scale.
(continued after jump)