Book Review: Digital Portrait Photography: Art, Business, and Style
Whether you're an accomplished portraitist, or a newbie who wants to get more serious about people pictures, "Digital Portrait Photography" promises an informative, entertaining read. —Peter KoloniaSenior Editor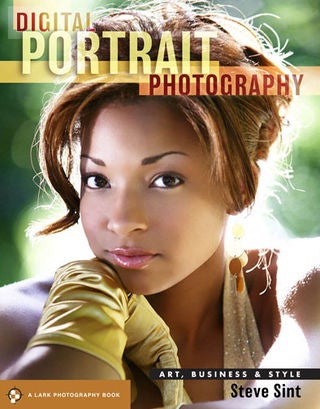 Steve Sint, whom Pop Photo regulars will remember as the magazine's esteemed studio photography columnist for many years, has just published another of his encyclopedic hands-on guides to better picture taking. "Digital Portrait Photography: Art, Business, and Style" (Lark Books, 2009; $19),  reads like a transcript of one of his popular portrait and wedding workshops, echoing with his distinctively knowledgeable, engaging, and humorous speaking style.  It's a voice that lets him connect with students, readers, and portrait subjects on a direct and personal level, and makes his writing (and teaching) easy and enjoyable to digest.
Skimming through Digital Portrait Photography, you'll notice dozens of beautiful portraits, but also the densely packed text.  There's a lifetime of useful information here, and much of it you won't find elsewhere in print. The opening chapter on the psychology of portraiture, for example, offers a step-by-step strategy for gaining a subject's confidence and complicity in the photographic process.  It alone is worth the price of admission.
The book's subtitle, "Art, Business, and Style," accurately states its three main concerns.  Art is covered in in-depth chapters on lighting, composing, and equipment.  Sint then shares secrets of the Business of portrait photography with sections on operating a photo studio, building a portfolio, writing contracts, and more.  Finally, he plunges into Style, with nuts-and-bolts coverage of makeup, wardrobe, and an extensive treatment of posing styles.
Whether you're an accomplished portraitist, or a newbie who wants to get more serious about people pictures, "Digital Portrait Photography" promises an informative, entertaining read.
—Peter Kolonia
Senior Editor