Where to go and what to shoot in September
Sail Away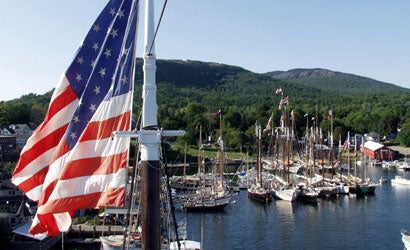 12th Annual Windjammer Festival
When: September 1-3.
Where: Camden, ME.
What: A fleet of 19th- and early 20th-century schooners arrive in the tiny port town of Camden to celebrate New England's maritime history. White sails billowing in the wind, mountains enclosing the harbor, sunlight reflecting off the water… See the picture opportunities?
Tip: Arrive at noon on the first day to watch the ships arrive, and stay to photograph the cannons firing at sunset. For a shot of the fleet against the city, hop on a tour boat.
For info: www.windjammerweekend.com; 207-236-4404.
47th Annual International Camel Race
When: September 8-10.
Where: Virginia City, NV.
What: Camel racing: Big in Australia, almost unheard of here. Every September, about a dozen surly beasts and their riders come to Nevada to race in an outdoor arena. Ostriches and emus stretch their legs, too.
Tip: Camels run as fast as horses but are much taller. So grab a spot in the stands and zoom in from above, using the ground as the background to avoid visual clutter.
For info: www.virginiacity-nv.org; 775-847-7008.
Hummingbird Migration
When: Throughout September.
Where: Strawberry Plains Audubon Center, Holly Springs, MS.
What: Tens of thousands of ruby-throated hummingbirds migrate along the Mississippi River in the late summer, trying to gain weight for their journey south. They flock by the hundreds to the feeders at sanctuaries such as the Strawberry Plains Audubon Center, giving you ample opportunity to photograph.
Tip: The gardens at the Center are the best spots to capture hummingbirds at the feeders and flowers. These tiny birds can flap their wings at 80 beats per second, so don't forget your high-speed strobe to stop action.
For info: www.msaudubon.org; 662-252-1155.
Fall Aspens
When: Late September to early October.
Where: San Juan National Forest, CO.
What: The beginning of autumn is marked by blazing color along the San Juan Skyway as the aspens turn a brilliant gold.
Tip: Forest Service Road 535 off the Skyway overlooks the slickrock Dolores River Canyon and provides some of the best views of the aspens against a craggy rock backdrop.
For info: www.fs.fed.us/r2/sanjuan; 970-882-7296.