PopPhoto Flash Exclusive: Class of Contrast
Prior to leaving the United States, I contacted Worldfund, an organization established in 2002 that finances and facilitates education initiatives in Latin America. Their goal over the next eight years is to transform the lives of 250,000 students by investing $50 million in schools and in gifted student programs. Upon learning of their goal, I was left with one question, "How can I help?"The answer that followed complimented my original idea of teaching photography and led me to produce a photo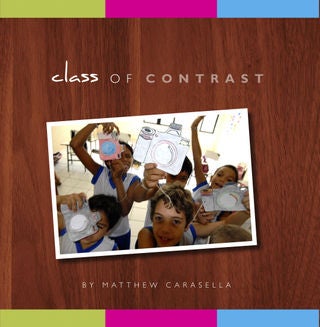 Matthew Carasella is an event photographer based in New York City. He worked at Pop Photo from 2003 to 2005 as the Workshop Coordinator for Digital Days, and contacted us about a special photography project he was working on in Brazil. Here's his story:
Seeking a change of pace, purpose and perspective away from the intense New York City event photography scene, I decided to embark on a journey to Brazil with the goal of teaching a basic photography workshop to disadvantaged children for a new photo project named "Little Shutterbugs".
Prior to leaving the United States, I contacted Worldfund, an organization established in 2002 that finances and facilitates education initiatives in Latin America. Their goal over the next eight years is to transform the lives of 250,000 students by investing $50 million in schools and in gifted student programs. Upon learning of their goal, I was left with one question, "How can I help?"
The answer that followed complimented my original idea of teaching photography and led me to produce a photo book entitled, "Class of Contrast" to raise funds and awareness to support their mission. I was convinced that I could help by contributing my time, skills and resources to directly impact impoverished students in Brazil.
Through the support of Worldfund I was connected with Escola Estrela do Mar (Portuguese for "The Starfish School") and experienced the gracious hospitality of Founder David Leiner and his wife, Claudia. I was granted access to teach and to photograph at the school for three days all the while as a guest in their home.
With two cameras and nine kids, I had to be resourceful and creative with my lesson plans. I created fun activities that taught techniques and basic camera parts with homemade visual aids. Each class session was 50 minutes. The students ranged from 7-10 years old. I speak practically no Portuguese, the students spoke little English so visual communication was a perfect fit.
During the first day we made paper cameras to learn basic camera parts. The children instinctively began playing photographer by looking through their own viewfinders, kneeling to take pictures and pretending to click the shutter. The second day, we practiced shooting techniques. While alternating turns taking pictures, one student used the camera while the others wore animal masks. The final day, we took a field trip and the students were assigned to work in groups and to take pictures of their Vision.
Although most of my time was spent teaching and photographing within the clean secure walls of the school, I knew a world of contrast existed beyond the gates. Stories recounted told of the horrors of murder, drugs, poverty, unemployment and generations of illiteracy. These words were hard to visualize for the images within the school were quite different. Perhaps it was denial until I stepped into the neighborhood on that final day. The distant question of "How can I help?" had now given way to my new thought, "This is real?"
To learn more about Little Shutterbugs and purchase a copy of "Class of Contrast," please visit: www.little-shutterbugs.com. Proceeds from the book will go directly to Worldfund and Little Shutterbugs._
—Matthew Carasella_
The photographer's work can also be viewed at www.socialshutterbug.com and www.matthewcarasella.com
For more info on worldfund, click here