Photo Ops September 2007
From frogs in costume to vultures on the wing, where to go and what to shoot in September.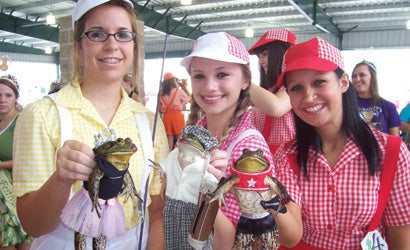 35th Annual Rayne Frog Festival
When: September 7-9, 2007. Where: Rayne, LA. What: Epicureans can thank Donat Pucheu for bringing frog cuisine to Louisiana in the 1880s. The rest of us can thank his legacy for a yearly tradition of dressing bullfrogs in elaborate costumes and racing them in a derby. The 35th Annual Rayne Frog Festival also includes a costumed Queen's Ball and a Frog Jumping contest. Tip: To honor its history as "frog capital," the city of Rayne commissioned a series of frog murals by artist Robert Dafford, and now they cover virtually every paintable surface — storefronts, houses, poles, trees, you name it. Use this urban art as a vivid backdrop to candids. For Info: www.rayne.org/frog_fest.html; 337-334-2332.
Olympia Harbor Days 2007
When: August 31-September 2. Where: Percival Landing, Olympia, WA. What: You wouldn't think of tugboats racing, but they do at Olympia's Harbor Days, now in its 34th year. Tugboaters celebrate Puget Sound's maritime history with a three-day festival that also showcases old tugboats. Since tugs are built for power, not speed, when they race they stir up enormous wakes, setting each other swaying from side to side in the churning waters of the harbor. Tip: The best view of the races is definitely from onboard a tugboat, so try to arrive early and cajole a skipper into letting you ride along. If you're able to snag a spot on one of the top contenders, shoot from the stern of the boat so you can face backward and capture the other racers head-on. For Info: www.harbordays.com.
26th Annual Indiana Wizard of Oz festival
When: September 14-17. Where: Valparaiso, IN. What: On September 14, step into this small town and you won't be in Indiana anymore, Dorothy. For one weekend, the small town is transformed for its annual Wizard of Oz Festival complete with backdrops of the Emerald City, the yellow-brick road, munchkins and Dorothys galore, and even some of the members of the original cast of the movie. Tip: Don't miss the Look-A-Like contests on Sunday for close-ups of tots in elaborate costumes. And from 1:30 to 3 p.m., official costumed characters gather for photo ops. For Info: www.wizardofozfestival.org; 219-983-1691.
Kern River Valley Turkey Vulture Migration
When: Throughout September and early October. Where: Kern River Valley, CA. What: Despite their macabre reputation, these birds are beautiful on the wing, scarcely flapping as they circle overhead. At the Kern River Valley, one of their largest migration sites, you can see up to 30,000 vultures throughout the season. Tip: Rise early to catch the majestic birds sunning themselves on rocks, their huge wings outstretched, at around 7:30 a.m. You can capture them in flight as they move out together as a group at about 9:30. Later, around 6:45 p.m., shoot the next round of travelers against the setting sun as they gather for the night on rocks and trees. For Info: kern.audubon.org/tvfest_activities.htm; 760-378-2531.