Photo Ops of the Month
From the grizzlies of Alaska to a 222-year tradition in New England, where to go and what to shoot in July.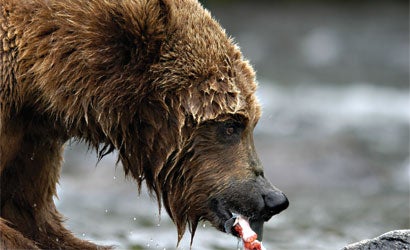 Grizzly bear watching
When: Mid-July through September. Where: Katmai National Park, AK. What: Capture these legendary brown beasts as they feast on salmon, which begin their annual run along the coast in mid-July. Katmai National Park, "Home of the Grizzly Bear," has the largest protected population, estimated at over 2,000. Tip: The timing of salmon runs varies among locations, so call to make sure your trip's timing coincides with activity where you're headed. For access to prime shooting spots, book a guided tour with one of the local camps. For info: www.nps.gov/katm; 907-246-3305.
222nd Annual Independence Day Celebration
When: July 3-4. Where: Bristol, RI. What: Established in 1785, the Bristol Fourth of July celebration is the oldest of its kind. Events include a parade that takes over the entire town, fireworks, an orange crate derby, and a Little Miss Fourth competition. Tip: While the 10:30 a.m. parade shows a lot of color, some prime photo ops are off the beaten path. Wander down side streets to see how Bristol residents have decked out their houses, with Uncle Sam balloons and cars painted red, white, and blue. For info: www.july4tbristolri.com. (For more July 4 photo ops, see You Can Do It.)
Baffle Gab Milk Carton Derby at Seafair
When: July 7. Where: Green Lake, Seattle, WA. What: Part of Seafair, Seattle's annual summer festival, the Baffle Gab Milk Carton Derby is now in its 36th year. More than 70 vessels made of milk cartons will set sail on Green Lake in a day of racing, parades, and showboat competitions. Prizes total about $10,000, so don't expect competitors to slack off. Past events have seen full-scale pirate ships and monohull sailboats with a mainsail of milk cartons. Tip: Your best bet for close-ups of entrants is at the Parade of Boats at 1:30 p.m.; for the fiercest competition, don't miss the Seafair Team Challenge at 2 p.m. For info: www.seafair.com; 206-728-0123.