Photo Ops for March
Where to go and what to shoot in March.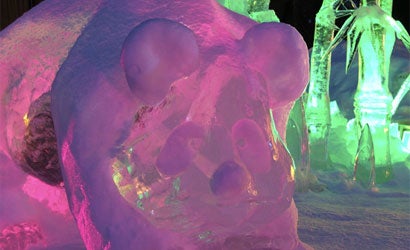 Photo Ops of the MonthWhere to go and what to shoot in March.By Teresa HaWorld Ice art championship
When: February 27-March 25. Where: Ice Park, Fairbanks, AK. What: Modern Michelangelos head to Fairbanks to carve awe-inspiring ice sculptures up to 25 feet high. At night, colored lights illuminate the sculptures. Tip: Photographers are often granted permits to enter the grounds after the park closes to the public at 10 p.m. The sculptures are so eerily beautiful, why have tourists ruin the photos? For info: www.icealaska.com; 907-451-8250.
Can-Am Crown Sled Dog Race
When: March 3. Where: Fort Kent, ME. What: If you can't make it to Alaska this month, head to northern Maine, where this annual "Iditarod of the Northeast" features 90 sled-dog teams competing in short- and long-distance races. Tip: Most spectators line up along Fort Kent's Main Street for the start of the first race at 8 a.m. But the quintessential mushing photos are more isolated, preferably along a less-trodden path. Stake out a spot further along the route, prefocus, and wait. For info: can-am.sjv.net; 207-444-5439.
Swallows of San Juan Capistrano
When: Early to mid-March. Where: Mission San Juan Capistrano, CA. What: Every year around St. Joseph's Day, March 19, flocks of cliff swallows return to the 230-year-old mission for the summer, nesting within the crumbling, picturesque Spanish arches. Tip: Once the birds build their distinctive nests, they're not too difficult to photograph inside them. Also look for mud spots, where the social birds meet to gather material for their nests. For info: www.missionsjc.com; 949-234-1300.
Orchid Daze
When: Through April 1. Where: Atlanta Botanical Garden, Atlanta, GA. What: Like human models, orchids are taller and more beautiful than their peers. The Fuqua Orchid Center gathers more than 1,500 species of these beauties together for your photo shoot. Tip: An off-camera flash and reflector (and, of course, a macro lens) are musts when photographing flowers. Look for a neutral background that contrasts with the orchid color, or for straight lines that will offset the curves of your well-behaved model. For info: www.atlantabotanicalgarden.org; 404-876-5859.