Obama in pictures
The book's amazing sales are not surprising, considering how Obama's visage can turn any item to gold. But the quality of Tufankjian's images alone makes it a worthy photo book. The photojournalist followed Obama's campaign from its unofficial beginning to its victorious end, capturing striking, candid moments throughout. Though the above picture was taken in St. Paul, Minnesota on June 3, 2008, the sentiment of his supporters struggling to get a hand on the politician aptly represents his entir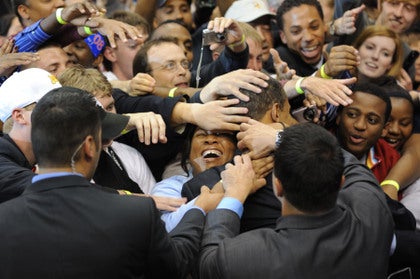 [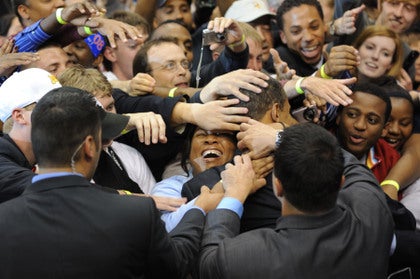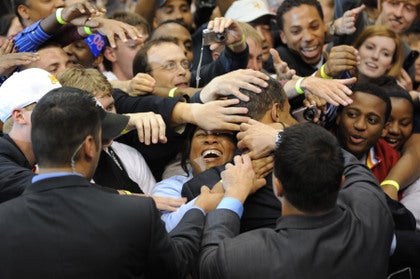 Obama on the evening of the last primaries
Senator Barack Obama (D-IL) wins the Democratic nomination for the President of the United States of America.///Barack and Michelle Obama attend a victory rally in St. Paul, MN, the site of the 2008 Republican National convention on the evening of the last primaries in the 2008 elections.
](http://stateoftheart.popphoto.com/photos/uncategorized/2008/12/11/2008_06_03cvictory67_2.jpg)
From collector's plates to nano-sized likenesses, everyone is trying to get a piece of Barack Obama in the lead up to his inauguration. But why not capture the political zeitgeist with something a bit more engaging? powerHouse Books and Melcher Media's recently-published photo book, Yes We Can—an exhaustive documentation of the Obama campaign by Scout Tufankjian—sold out its initial printing of 55,000 copies before the book was officially released last week. Luckily for any stragglers, a second printing will become available this Monday (you can purchase a copy here).
The book's amazing sales are not surprising, considering how Obama's visage can turn any item to gold. But the quality of Tufankjian's images alone makes it a worthy photo book. The photojournalist followed Obama's campaign from its unofficial beginning to its victorious end, capturing striking, candid moments throughout. Though the above picture was taken in St. Paul, Minnesota on June 3, 2008, the sentiment of his supporters struggling to get a hand on the politician aptly represents his entire run for office.
— Lindsay Sakraida
Click through to view some additional photos from the book.