My Experience with America's Pastime
Guest Columnist of the Month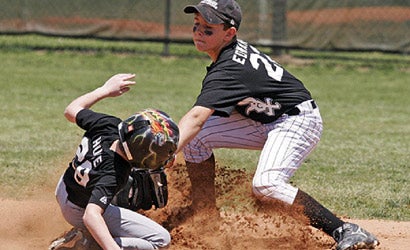 I first experienced the joy of covering Little League baseball games a lifetime ago, when I was shooting for a local newspaper. My love for it was rekindled some time later, when my son began playing. My coverage of the game has grown from taking pictures of my son to covering the entire league for the annual publication.
I'd like to share my experiences from this past season with those who cover Little League games in their communities; for family photographs or otherwise. I think covering such events is among the most rewarding photographic experiences you can have.
* Photo Gallery * Comment on this * About George Ponder
All in all, this past season I shot over 7,000 frames covering day, afternoon and some night games for the 12 teams in my son's league. I have no idea how many hours I spent reviewing and processing images. While shooting the games was pure enjoyment, keeping track of my son's game was tense. His team won or lost half their games by 1-2 runs, all nail-biters to the last out.
My season started with opening day. I decided to spend the entire day at the ballpark, covering the five day games over an eight-hour period. I shoot with a Canon 20D using either a Sigma 50-500mm or Canon 70-200mm f2.8L with an EF 2.0X teleconverter, all supported on a Bogen monopod. The season reaffirmed for me the necessity of shooting with a monopod or tripod when using large telephoto lenses. While I can shoot with the Sigma (weighing in at just over four pounds) unsupported for short periods of time, I need a monopod for prolonged shooting events.
I would typically set up along the first base line, which allowed me to cover the batter's box and the bases. At my son's machine pitch games, I'd focus on the batter and when I heard the distinctive "thump" of the pitching machine, I'd start shooting.
With live pitch, I tried to keep one eye on the batter and one eye on the pitcher, to gauge the batter's swing. However, with live pitch, the batters aren't so swing-happy, and they watch the pitches a lot closer. Every pitch doesn't result in a swing. So, you learn to watch the habits of the players. Some pull back ever so slightly with the bat before they swing; others' eyes get wider, some stick their tongues out, and others yell.
I try to shoot baseball with a shutter speed of at least 1/1000 sec and the 20D gives me 5 frames per second. Even if I hit the shutter button when I see the forward motion of the bat, I should be able to capture a portion of the swing.
Another big challenge for shooting batters is where they look as they swing. Technically, they should keep their heads up, eyes open, and watch the pitch. However, remember that these are 10-year-old boys who often forget the technical aspects of the game. They swing at pitches three feet above their heads; they close their eyes; and they keep their heads down.
Some batters photograph better than others. At the games I went to last season, there were some boys who constantly looked down as they swung, preventing any facial expressions from being captured. Others kept their heads up and were full of expression as they tried to reach the fences with their swing. It was surprising at first, the number of batters who still swung with their eyes closed. Remarkably, many made contact and found themselves with a base hit.
Plays around the bases were always fun to catch. Whenever a batter made it to first, I'd start getting ready to turn my camera to catch a play at second. You learn the base running habits of teams, the more you cover them. By midseason, I had a good understanding of which teams would steal second and which ones played it safe. There will also be clues from the crowds and coaches when a player tries to steal second. Invariably, someone will yell, "HE'S RUNNING!" or "THROW HIM OUT!" This is what you would call a sign to turn your camera quickly to second base.
To photograph the pitcher, I would position myself behind the plate, shooting through the fence, using a slight angle (left or right, depending on the pitchers throwing arm) to capture more of a profile. I would also shoot from this position at a wider angle to capture the batter's swing along with the pitch.
* Photo Gallery * Comment on this * About George Ponder
I found that a standard hurricane fence will let you shoot around 50mm. Anything wider. and the fence wire sneaks into your frame. Look for the sections of the fence that have been widened a little by foul tips or wild pitches.
Every now and again, I'd wander to the third base line and catch runners making the turn at second. The expressions of excitement on making it to third base or the desperation of turning a double into a triple are always fun to catch.
My favorite player position to cover had to be the catcher. For many of the pitchers, this was only their second season to pitch. There were many pitching their first season. Needless to say, the catcher took a beating and had to chase a lot of wild pitches. On dry, dusty days, he would also get caught up in a dust storm.
Don't forget about action away from the bases and batter's box. You can capture some nice pictures of players in between plays. There's something about a Little League outfielder who sits down and plays in the dirt during a game. Outfielders seem to get bored quickly and there's no telling what you can capture with a camera.
Not to leave the girls out–I did get the opportunity to shoot a softball game. I honestly didn't know what to expect covering girls' softball. It took a little while to adjust to the pink batting helmets and bats (not to mention the singing from the dugouts), but the girls played with intensity similar to the boys'. They don't slide as much, but they swing the bat with the same colorful expressions. They also smile more, while in the field where the boys try to look tough. Catching the pitcher in the right moment was a challenge–they step forward quickly during their delivery. It's best to try to shoot softball pitchers at a slight angle to highlight this movement.
As for equipment, I shot with a Canon 20D, using either a Sigma 50-500mm or Canon 70-200mm f2.8L with an EF 2.0X teleconverter. I like the 20D for two main reasons: the frames-per-second rate, and its ability to keep noise levels down even when shooting ISO 3200 (a big advantage for night games).
The Sigma gives me added reach, and it's one of the sharpest "big" lenses out there. The Canon lens is a little bit faster for late afternoon games, and I drop the teleconverter to cover the night games.
Previously, I used an Olympus C-2100, then moved to a Minolta DiMAGE 7 and a Canon EOS Digital Rebel before getting the 20D.
I think the key is having a good telephoto lens. Whether it is a fixed lens camera or a DSLR, I think you need at least a 10X optical zoom or a 70-200mm SLR lens. This is not to say that a 35-105mm fixed lens point-and-shoot camera won't produce good pictures of your little leaguer. These cameras have the ability to produce really nice pictures. But to get close up to the action and get sharp, crisp images, you need a little more reach than the smaller cameras offer.
* Photo Gallery * Comment on this * About George Ponder
While I prefer the 5 fps of the Canon 20D, you can manage with slower rates. If you shoot with a slower-fps-rated camera, you just have to learn the timing of the game better. I also prefer being able to use the manual or shutter-priority mode: This allows you to use faster shutter speeds to stop the action. The fully automatic point-and-shoot cameras seldom have this feature.
I received several requests from parents to get copies of my pictures. To make my pictures easier to access, I created a gallery on my website for family and players to use. My work during this season was done to contribute to the season, and parents were able to enjoy and share pictures of their sons freely.
I can't say all was done without rewards. A rewarding compliment came from one of the players, who said that he was using one of my pictures as his computer wallpaper. Players would email their pictures to out-of-state relatives to share and, in one case, show off to cousins who played in another league.
After covering such an enjoyable and intense subject, I now struggle with finding a photographic substitute. Is there life in the off-season? I've always had an interest in wildlife photography. I've chased backyard animals around. There are several memorials close to the house, for everything from veterans to Eagle Scouts. On top of all that, there are always weekends at the lake, chasing kids enjoying the sunny day, visiting ducks, lizards peeking out of the woodpile.
There's only nine more months until Opening Day 2007, when you'll find me setting up down the first base line. Until then, I'll see what else is out there to photograph. Hopefully with as much success as I had at the ball park.
George Ponder has been taking photographs for over twenty years now. In his college years attending Auburn University, he worked as a professional photographer shooting for the local newspaper and the University's Athletic Department.
In 1987, he hung up his press credentials to pursue a career in law enforcement. He is currently a Sergeant with the Jefferson County Sheriff's Office in Birmingham, Alabama. He still is very active in photography by covering Little League baseball games, chasing his two children around and shooting Bald Eagles and other wildlife in the region.