MONTANA | September 7-12, 2007
MONTANA | September 7-12, 2007Mentors | Bill Durrence, John Reddy, Rosanne Pennella RECAP by Rob Prushan On September 7, 2007, … Continued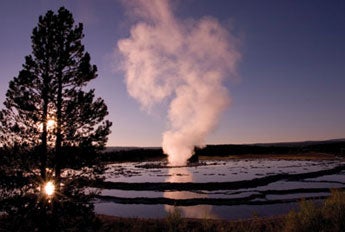 MONTANA | September 7-12, 2007Mentors | Bill Durrence, John Reddy,
Rosanne Pennella
RECAP
by Rob Prushan
On September 7, 2007, 47 photographers descended upon West Yellowstone, Montana for what turned out to be a most rewarding experience for all. Armed with more camera gear than this writer has ever seen in one place, we came to experience Big Sky Country in all its splendor. Nothing disappointed- the beauty of Montana and Yellowstone, the camaraderie of the people, and certainly not our three mentors, Bill Durrence, Rosanne Pennella and John Reddy.
As is typical for large gatherings of strangers, everyone was a little quiet that first evening as they attentively enjoyed presentations by Bill and Rosanne. By the time John shared his presentation after Saturday's breakfast, we were all ready to get out there and experience Yellowstone- because Yellowstone is not something you just see, it's something you experience. From pools of boiling water, steam vents, geysers and craters of bubbling mud, to herds of buffalo and elk, one did not have to look very far for photographic inspiration. And with the help of our mentors, we really learned how to visualize Yellowstone in a whole new way.
Sunday took us to the Elkhorn Ranch for a day of horses, cowboys, cowgirls and more of that spectacular Montana scenery. The staff at Elkhorn opened their ranch up to our group and provided us with a most memorable day. I reckon' these folks don't get to do much modeling work the rest of the year, but they were naturals and we all came away with many great images.
Monday was our farthest trip, but by this time, the group was more than relaxed and having a great time. (That certainly was the case on Bus 3- a.k.a The Zoo- where we had so much fun, the mentors were stepping over each other to work with our group. Or were they trying to get away? You'll have to ask Bill.) We ventured up to Nevada City, a veritable treasure trove of photo opportunities. We had wonderful models in period dress, more of that fantastic scenery, perfect weather and enough variety of photo opportunities to meet everyone's needs.
Tuesday brought us another day back in Yellowstone (although it was still night when we stumbled out of bed and onto the busses!) and while we continued to have a great time, everyone felt the sadness of a great trip starting to wind down. We topped it off with a wonderful slideshow of everyone's work, which was all the evidence we needed to know that we all came away richer for the experience. We worked hard, learned a lot, had a ton of fun, and all came away from the trip better photographers than when we arrived. Our hats off to Bill, Rosanne and John for a great job (and for putting up with Bus 3) and our thanks to all the others that worked so hard to make our experience so great. See you all out there on the next trek!
Recap by Chauncey Davis
The Montana Photo Trek was one of the most amazing experiences I have ever had. From the first meeting of the mentors, the learning process started, not only for the beginner in photography, but in the advanced shooters. The three mentors on this trek brought a huge variety of skills, insight, and artistic class that can only be experienced. John Reddy, who is from Montana has a fantastic eye for landscapes. He took the time to show each one of us, the various techniques that he uses, along with looking for new vantage points from composition to having an unforgettable day! When portraits were brought into scope, Rosanne Pennella brought to light various angles of shooting and showed us what you don't always see at first. And when you needed the best way to "fix" a shot, there was Bill Durrence. Not just one fix, Bill would show you several, then the right fix. All three are patient, fantastic, and outstanding people, and mentors.
Yellowstone National Park beckons for a photographer. Hot springs, geysers, wildlife, and landscapes like nowhere else I have seen taught me to stop and enjoy. That's the key, stop and enjoy what you are shooting. Our guide, Amy, was part of group three, which this group just clicked from day 1. She was not just a Yellowstone Park Guide, but a photographer, too. So she was right there with us taking pictures, learning from the mentors, and finding us the best shots in Yellowstone. And when we had questions, or wanted something different to see or shoot, she was right on top of finding it for us. And she didn't hesitate to find out from other guides, where we could find wildlife. But there was more to the Montana Photo Trek than Yellowstone National Park. Spending a day at the Elkhorn Ranch took us to a different arena of Photography. Working with models and live action scenes brought new techniques. All three mentors had great pointers, advice, and I think even they came away with something new. Other travels on this trip took us to Virginia City and Nevada City, ghost towns from the gold rush era. Again, the mentors showed everyone new techniques, skills, and patience. One of the many tidbits I came away with, was always be aware of your surroundings, the better shot just might be behind you. Given time to explore, you get a chance to test and "play" with a new found skill and really come back with shots that are just unbelievable. Everyone at some time or another has the "AH HA!" moment, as Rosanne told me when I had mine. That moment when the world stops turning, the planets align, and everything becomes perfectly calm and clear, and you shout AH HA! I had that moment in Montana! My trusty Canon Digital Rebel and I became one! OK, so I didn't take every shot perfect even after the AH HA, but I took some really cool shots after that! All because of the things that I was shown by the mentors and from fellow trekkers.
The Workshop is flexible! The balance of classroom time and shooting time made this an exciting learning experience. Everyone was open to suggestions, including a breath-taking sunrise shoot in Yellowstone. Classes were not your typical lectures. They occurred on the busses, while eating lunch or breakfast, and sometimes while walking to and from the shooting location. What truly made this an experience that I will remember always, and want to do again, is the people. Not just the other "trekkers" and mentors, but everyone from Mentor Series, and the guides, and drivers, all made this worthwhile. There is more than just taking pictures, and learning from the Mentors, there are new found friends, and new things to see and do. We had time to go and check out the Grizzly and Wolf Discovery Center, souvenir shop in Yellowstone, and in West Yellowstone, Mt. and just sit and enjoy a local beverage called Moose Drool. The Final Slide show brings it all together. Everyone turns in 5 shots from the weekend, and this is where it all pays off for everyone! Why? I look at what I shoot, and think, that's nice. But to hear others comment, and "oooos" and "ahhhs" over one of your shots, that's when you realize that you learned something.
If you ask me will I do this again, no question, I will. Will I go to Montana on the Trek again, oh yea, in a heartbeat!