Fly Away
Where to go and what to shoot in November.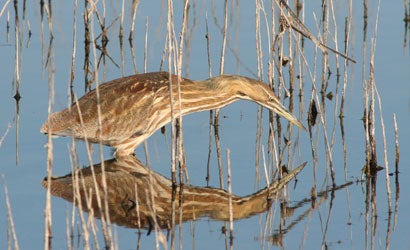 Wintering shorebirds
When: Late November.
Where: Bitter Lake National Wildlife Refuge, Roswell, NM. What: More than 25,000 snow geese and as many as 15,000 sandhill cranes begin to arrive at the refuge for winter. With more salt flats and sinkholes than New Mexico's other birding destination, Bosque del Apache, the refuge attracts more migratory shorebirds.
Tip: Early mornings and late evenings are the best times to capture the wading birds. An area by the start of the butterfly trail is also known as a hotspot for songbirds.
Info: www.fws.gov/southwest/refuges/newmex/bitterlake; 505-622-6755.
Thanksgiving Celebration
When: November 18.
Where: Plymouth, MA.
What: Plymouth is historic for being the home of America's first Thanksgiving, so it's fitting that the city's annual turkey-day parade features scenes from U.S. history. Full-sized replicas of the Mayflower, World War II fighter planes, and scenes from various battles have appeared at previous parades. Since Plymouth attracts fewer attendees than some other Thanksgiving celebrations, you have a chance to see the action up close and personal.
Tip: Half the fun of shooting parades is capturing the people watching it. Look for spectators leaning out of building windows, or interesting juxtapositions with spectators and floats.
Info: www.usathanksgiving.com; 508-746-1818.
World's Largest Disco
When: November 25.
Where: Buffalo Convention Center, Buffalo, NY.
What: Every Thanksgiving weekend, more than 7,000 attendees relive the '70s. It's like a costume party in a nightclub; members of the Brady Bunch have been known to appear.
Tip: At events like this, everyone wants to be photographed. An accessory flash is a must (tripods and bulky equipment aren't allowed). Experiment with front- and rear-curtain sync so you can capture the background lights and action.
Info: www.worldslargestdisco.com; 716-635-8668.
Surfers and swells
When: Late November.
Where: Waimea Bay, Oahu, HI.
What: In wintertime, Oahu's gorgeous North Shore gets some of the biggest waves — and best surfers — in the world. At Waimea, a half-mile bay marked by distinctive rocks at each end, the inner shore breaks regularly reach 12 feet.
Tip: Most surf photos are shot from the shore, so bring a sturdy tripod and 400 — 500mm lens. Or, go at sunset for dramatic contrasts of surf and shore.
Info: www.visit-oahu.com; 800-464-2924.