February Photo Ops
Where to go and what to shoot in February.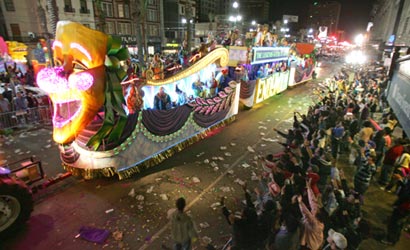 Mardi Gras
When: February 16-20.
Where: New Orleans, LA.
What: The days leading up to Fat Tuesday are known around the world for costumes, beads, drunkenness, and overall debauchery. The Bacchus parade on Sunday usually attracts the most celebrity guests.
Tip: Avoid the French Quarter and head uptown to the Garden District. The corner of Napoleon Ave. and St. Charles Ave. is a favorite spot among locals for getting close to the parades while they're still fresh. There's also the benefit of arching oak trees to frame your photos.
For info: www.neworleanscvb.com; 800-672-6124.
Westminster Dog Show
When: February 12-13.
Where: Madison Square Garden, New York, NY.
What: Fans of the movie Best in Show can imagine the insanity that goes on behind the scenes at the country's most prestigious dog show: frantic owners, high-strung pooches in curlers, and some of the craziest candids outside of New Orleans.
Tip: Dogs are kept in the "benching" area when they're not in the ring for judging, and it's here that photographers can roam around and capture the best shots. Take advantage of the fluorescent lights above to get interesting silhouettes.
For info: www.westminsterkennelclub.org; 212-213-3165.
Winter Beaches
When: Throughout February.
Where: Chincoteague National Wildlife Refuge, Assateague Island, VA.
What: The winter winds will have blasted and sculpted the beaches along the refuge, providing a bleakly beautiful backdrop for your nature photos. And the Wildlife Loop around the refuge lets you see it from the warmth of your car.
Tip: Winter skies can be drab and overcast; look for stark contrasts in the landscape and natural curves such as sand dunes to provide visual interest to your photo.
For info: chinco.fws.gov; 757-336-6122.
Elephant Seals Breeding
When: Throughout February.
Where: Año Nuevo State Reserve, Pescadero, CA.
What: More than 3,000 seals come to Año Nuevo each winter to battle for mates, breed, and give birth at the northern elephant seals' largest mainland breeding colony.
Tip: Docents will lead you up to 50 feet from the seals, but you'll need a reservation for the guided walk. Call the reservation hotline at 800-444-4445 (they recommend at least a month in advance).
For info: www.parks.ca.gov; 650-879-2025.