Editorial: DIY Publishing with Mpix
Showcase your best shots in a handsome and easy-to-produce hardcover book.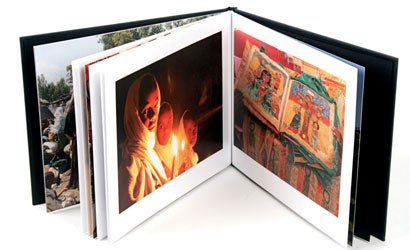 If I'm ever accused of putting my images on a Tshirt, coffee mug, or mouse pad, I can plead innocent. The idea of taking a crisp, colorful photo and reproducing it in fuzzy, flat colors makes my corneas ache.
"Photo quality" is my mantra. That's why I'm partial to prints.
Do-it-yourself books? Those I've seen haven't impressed me. But when I heard that Mpix was now producing books with a Kodak Nexpress system, I didn't hesitate. In Pop Photo's test of online labs ("Click To Print," May 2006), Mpix earned our highest ratings in print quality and turnaround time.
I started by downloading the Mpix book software (www.mpix.com). My Mac, however, wouldn't open it (you need Apple OS X 10.4 or higher; a version for earlier Macs is coming). On my PC it was smooth and quick. No technical skill required.
Choose a format (such as 8.5×11 inches vertical or horizontal; hard or soft cover), and the workspace comes up. Jumping in without reading any instructions, I dragged and dropped images from a couple of CDs directly into the image browser. I also poked around the numerous borders, backgrounds, and templates for arranging images. Though some people might want a book that looks like a Hallmark store exploded on its pages, I went with a simple, graphic showcase for my photos.
A pop-up toolbar lets you crop, resize, reposition, fade, and even turn images sepia or b&w. (Serious image editing must to be done outside this program.) Text? Anywhere, nowhere, or everywhere. Want to move pages or go beyond the standard layouts? Just do it.
Or, make the pages in a graphics program (such as Adobe Photoshop), and simply drop JPEGs of your layouts into the Mpix software for printing.
Overall, putting the book together was easy. But when it came time to upload it, I had one hell of a time, and a screen popped up, telling me to contact customer service.
"Did you move any of the images?" the CS guy asked.
"No. Except within the book," I replied.
"Maybe it's your computer's firewall or anti-virus software."
To make a long story short, my problem was having used two disks, which I switched out in the CD drive. The Mpix program doesn't really download your high-res files into itself. It works with thumbnails and notes where the high-res images are residing. So when it's time to upload for printing, it finds the high-res files, and sends them on their way. If the disk they're on isn't there, no upload for you. (And, unfortunately, no prompt that says, "Hey, where's the disk?!")
My advice: Put the photos you expect to use in your book into a desktop folder, and then load that folder — and only that folder — into the Mpix image browser
When the layout's finished, the software serves up a proof in the form of a PDF. Pick your paper — pure white, 100-pound stock (for colors that pop, go with this); a textured linen; or a luminous, offwhite pearl (which I chose).
The bill? $30 for the basic, 20-page hardcover book. Six additional pages at 50 cents each. $7 for printing on the cover (my name in silver!). $9.75 for overnight shipping (yes, I was eager). Total: $49.75.
In all, I'm impressed. Photoquality? Definitely. I'll be printing more books. But no matter how far technology advances, I'm not making a coffee mug.
Ask John
Q. Can I add a skylight filter to my Canon PowerShot S3 IS? If so, how? There are no threads on the front of the lens.
A. Many compacts are threadless on the front of the lens, but have a threaded or bayonet mount for adapters. Third-party adapter tubes with threads on the front are common and cost about $20. Canon's version for your camera is the LAH-DC20 Lens Adapter/Hood Set ($30, street); it takes 58mm filters.