Editorial: Best in Show
Our 2007 Photographer of the Year doesn't need pricey gear to be the Best Shooter on the Planet.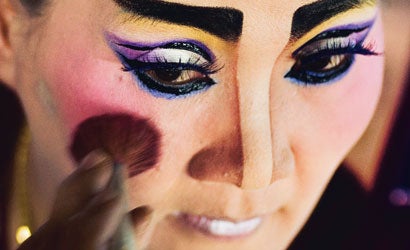 There's a lot we can learn from Marc Aviles. One lesson is that becoming a really good photographer doesn't require being born with a camera in your hand. This information-technology professional from Manila, Philippines, didn't get into photography until he was in his mid-30s and has been shooting for only five years.
Another lesson: Although it's exciting to own the latest, most pro-caliber gear, it's not a prerequisite for great pictures. Aviles shoots with a decidedly consumer-level Canon EOS Digital Rebel XTi as well as a Canon EOS 10D — a fine camera, but long ago it was superseded by the 20D and 30D, and a new 40D has just hit the stores. His lenses? A modest arsenal of five Canon and Sigma primes and zooms.
Perhaps the most important lesson of all is what they used to say in that sneaker ad — "Just do it!"
"I don't have formal photography training," he says. "I'm self-taught, learning from different photography forums, magazines — especially Pop Photo — and photographer friends."
Photo by Marc Aviles
Click photo for more images.
But that was enough of an imaging education to help Aviles sweep Popular Photography & Imaging's 2007 Photographer of the Year Competition. His win this past summer earned him the title "The Best Shooter on the Planet" and $5,000 in cash.
In previous years, we held the three-day Shoot-Out on the streets of New York. But this time, we opened the Shoot-Out to all comers and conducted the battle on our website. The result was hundreds of men and women from around the world (Bangladesh to Bosnia to Brazil to Brooklyn) taking our daily assignments and posting their photos at PopPhoto.com by the next morning. The assignments were whimsical (a photograph of your name), challenging (a documentary of a day on the job), cruel (a portrait incorporating the elements rock, paper, scissors), and nearly impossible (a shot of a unicorn).
While some dross was posted, there also was a great deal of work showing dazzling creativity and enviable technical skill. This photo from Aviles is just a sampling. See for yourself in the assignment galleries.
Yes, our goal with the Shoot-Out was to find the top talent. But it also was to prod, challenge, and inspire photographers at all levels to improve their eye and build their skills.
Resourcefulness, determination, and discipline are essential qualities for any serious photographer. And we tested them. But the Shoot-Out also tested the one skill that separates good photographers from amazing ones: creativity.
"Competitions really make me think about concepts and force me to exercise my imagination," said Aviles. "In the Shoot-Out, the first assignment [photograph your name] was very exciting. But when I saw the other photographers' results, I told myself that I need to exert more imagination."
Shoot-Out 2007 Links • Winner Gallery • Finalists Gallery • Best of Slideshow • Shoot-Out Wrap-Up • Contest Rules Assignment Galleries #1 Your Name #2 The Portrait #3 Creative Documentary *BONUS* The Unicorn Past Shoot-Outs • 2005 Shoot-Out • 2006 Shoot-Out
In other words, creativity is like a muscle — the more you work it, the stronger it becomes. Another important lesson from the 2007 Photographer of the Year.
For more info see our 2007 Photographer of the Year: Marc Aviles article.
Ask John
Q. I saw an ad in your magazine about how I could win a Mustang or $25,000 from Pop Photo. Is this for real, or just a scam to make me buy something?
A. It's real. The idea behind this sweepstakes is to encourage readers to sign up for our online surveys. We value your opinions, and we're willing to give away stuff to get them. Go to www.PopPhoto.com/sweepstakes for all the details.