Current Issue: Jan/Feb 2007
Contents | Volume 18, No. 1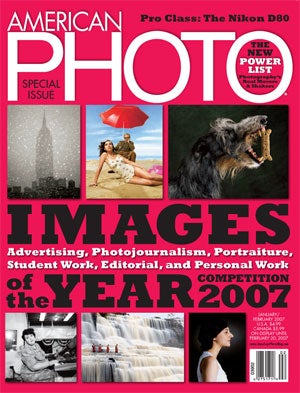 Special Section
Images of the Year
The Images of the Year, 2007 For our latest photo competition, we wanted to see the best work from the best pros on the planet, as well as from advanced amateurs and other photo enthusiasts. That makes this contest something entirely different from any other. We called for entries in six categories. Then a jury of experts picked the winners and runners up in each category, as well as a grand-prize winner (whose identity we'll reveal at a gala event in New York City on Dec. 7).
Portfolio
The Best Photo Books of the Season
This year we chose a diverse collection that includes a look back at Elvis in the crucial rock-and-roll year of 1956, a consideration of the influential fine-art photographer Francesca Woodman, a meditation on the aftermath of Hurricane Katrina by Robert Polidori, and more.
Departments
Inside American Photo
How our panel of experts chose the winners of our Images of the Year Competition.
Editor's Note
Every once in a while you've got to stand up and say, "I blew it." Now it's our turn.
Inside Photography
A portrait of the photographer Joel-Peter Witkin, somewhere between Heaven and Hell.
Inside Photography: See It Now
Gonzo photography by Hunter S. Thompson, new views of Alice's Adventures in Wonderland, and more.
Inside Photography: Career
How Karen Kuehn is getting her groove back.
Inside Photography: Art
A fashion photographer shoots a supermodel reunion on the beach in the Bahamas.
Inside Photography: Books
Dave Anderson's remarkable debut looks at the rough-and-tumble small town of Vidor, Texas.
State of the Art: 2006 Innovators
Our first annual roundup of the innovators who are changing the art and business of photography.
Tech & Vision
Jeffrey Aaronson's portrait of a redhead, freckles and all, inspired by a perusal of the personal ads.
Tech & Vision Editor's Choice
The pro-caliber Nikon D80 is a perfect fit for non-professional shooters, too.
Tech & Vision Inside Photoshop
How you can get more creative control — in black and white, not just color — by shooting RAW.
Tech & Vision Workflow
To write the book on the new Photoshop Lightroom software, Mikkel Aaland put together a very special digital-imaging summit in Iceland.
Tech & Vision On Location
How Jeffrey Aaronson creates his unflinchingly detailed portraits with 20×24 Polaroid film and lots of flash.
Previous Issue: Nov/Dec 2006