The Highest-Paid Supermodels: Don't Hate Them
We try to stay up on all the supermodel news around here, because you never know what cultural insights you'll come across in this field of study. For instance, according to this study, super skinny models are a turn off to most viewers, men included. (It seems only fashion designers and editors like the size-zero types.) Today we also learned who the 16 highest-paid supermodels are. I'm not sure what methodology was used in this ranking, but I'm guessing the results are accurate. At the Number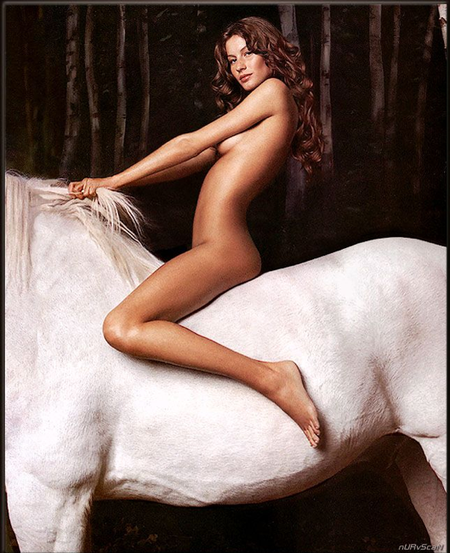 We try to stay up on all the supermodel news around here, because you never know what cultural insights you'll come across in this field of study. For instance, according to this study, super skinny models are a turn off to most viewers, men included. (It seems only fashion designers and editors like the size-zero types.)
Today we also learned who the 16 highest-paid supermodels are. I'm not sure what methodology was used in this ranking, but I'm guessing the results are accurate.
At the Number One spot is Gisele, shown here in a photo by Walter chin. Gisele is more of a brand than a supermodel at this point. American Photo recently ran a stunning portfolio of Gisele pictures by photographer Nino Munoz. According to the article, she earn about $41 million a year.
Number 2 is Heidi Klum, here from a photo by Antoine Verglas. She is a TV star as well as being a perennial Victoria's Secret model. Sadly, her Project Runway show seems to be stuck in legal limbo, but we'll wait patiently to hear her say "auf wiedersehen." The mother of three makes $14 million a year.
Number 3 is Kate Moss, who is the most interesting of the top 3. She has been around since the early 1990s, which is like the 18th century for supermodels. Plus she's been through drug scandals and whatnot, but she remains a fashion icon, earning $7 million a year. Once, she defined the idea of the superskinny model, but she seems Rubenesque compared to the emaciated models today. Maybe that's why she's still so important. Thoughts?–David Schonauer