Hands On Review: Nik Software's Silver Efex Pro
The U Point Technology allows you adjustment control to a specific point in the image as to the area, brightness, contrast and structure with a preview of the change before you commit to it. Silver Efex Pro offers thirty different preset black-and-white styles and the ability to save your favorite style settings. One of my favorite features shows you exactly where the different tonal ranges fall within the image when using the loupe as seen in the above image the zone as you hover over it shows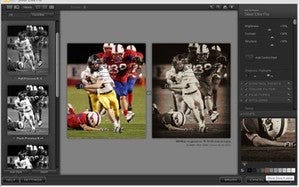 There is more to creating a black-and-white image than just desaturating or shooting in black-and-white mode. The best method is to take the photo in color—will have more data to work with while you make the most of all of the different areas from shadows to highlights. There are a number of programs on the market that simplify this process and Nik Software's Silver Efex Pro should be at the top of the list. All of the Nik Software programs operate in a similar fashion and can be used together or separately in your workflow. Silver Efex Pro keeps things simple and user friendly. It works as a plug-in to Adobe's Photoshop and Apple's Aperture.
The U Point Technology allows you adjustment control to a specific point in the image as to the area, brightness, contrast and structure with a preview of the change before you commit to it. Silver Efex Pro offers thirty different preset black-and-white styles and the ability to save your favorite style settings. One of my favorite features shows you exactly where the different tonal ranges fall within the image when using the loupe as seen in the above image the zone as you hover over it shows up in the right hand image as colored dash marks.
Selective coloring is simplified with the brush feature that allows you to apply the black-and-white conversion on a separate layer where you can brush the filter's effect on or erase it leaving the color from the background layer.
Former film photographers will appreciate the 18 different film types available, along with the ability to adjust the amount of grain, tone and sensitivity. You can also select a specific color filter and then adjust for hue and strength to control the finer details. Silver Efex Pro gives you options for vignetting, toning, and burning the edges. For a die hard black-and-white photographer that does not want to get into complicated controls Silver Efex Pro is a great compromise and gives you a preview of all of your changes before you make your final decision. As with most of the Nik Software programs certain features work differently in Apple's Aperture than in Adobe's Photoshop. See Nik Software's site for more detailed information into the features and how to best use them. This is a plug-in that will get a lot of use from anyone who appreciates the fine nuances of black-and-white photography. Silver Efex Pro is available from Nik Software for $199.
—Melissa Macatee
Contributing Blogger