Perpignan Update: Tuesday at the Festival
Time is flying at the Visa pour l'Image photojournalism festival. At ten this morning we stopped by the press conference of Ernesto Bazan. Raised in Sicily, he rediscovered the joy of his childhood in Cuba where he photographed and later taught photo workshops until 2002. After winning many awards, including a W. Eugene Smith grant and Guggenheim fellowship for documenting Cuba's (the transitional time after the fall of the Soviet Union), Bazan nonetheless said that he does not think of himself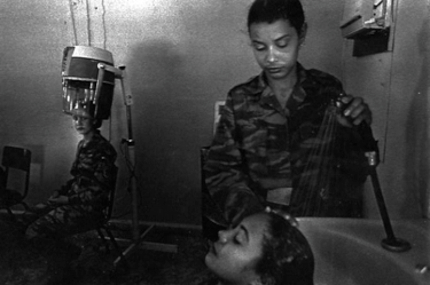 Time is flying at the Visa pour l'Image photojournalism festival. At ten this morning we stopped by the press conference of Ernesto Bazan. Raised in Sicily, he rediscovered the joy of his childhood in Cuba where he photographed and later taught photo workshops until 2002. After winning many awards, including a W. Eugene Smith grant and Guggenheim fellowship for documenting Cuba's "Special Period," (the transitional time after the fall of the Soviet Union), Bazan nonetheless said that he does not think of himself as a photojournalist, but rather a street photographer. (Above: one of his Cuba images.)
"I was a hunter looking for prey," he explained, although he added that over the years he has become more interested in establishing a relationship with his subjects. In 2002 Bazan was basically forced out of Cuba. He talked about the police coming to him and accusing him of running a journalism workshop…under the contradictory logic that exists there, he was registered as a working photojournalist with the government already. Worried about the safety of his Cuban wife and two boys, Bazan left the country, in what he says has been a blessing in disguise. Now his family is free to go back as they wish, and he has moved on to teaching renowned workshops in Mexico, Peru, Brazil, Argentina, and Italy (to name a few).
The next press conference was with Paula Bronstein, who's position as an assignment photographer for Getty images has taken her around the world, but who has been an especially important set of eyes in Afghanistan since just after September 11, 2001 (one of her images from there is above). Despite the incredible access she's gained and incredible photos she's been able to make (especially of self-immolation victims in Afghanistan and Pakistan), Bronstein spent a lot of time talking about what she hasn't been able to do. She'd love to document what's going on in the south of Afghanistan, but it's simply too dangerous. She's never successfully shot inside a mosque. "I'm still a foreign woman with a camera around my neck," she said. "I'm still looked at like a Martian." Yet Bronstein wouldn't be respected the way she is if she let that deter her. She also talked about making photos inside Afghan mines, where no woman had ever gone. It took her half the day to convince them to let her in — but she got in. Bronstein also talked very honestly about the problems facing journalists covering stories that have been covered by many others before. "They look at me and they see dollar signs," she says of photographing poverty-stricken people. "What's in it for us" they want to know. Like so many dedicated photojournalists, she has had to negotiate her own approach to such requests. She still refuses to pay people to take their picture, but she almost always brings fruit or meat to the men she photographs in drug dens, who often have not had more than bread to eat for weeks.