Hands On: Pinnacle Studios 12
Uploading your digital videos, photos, and audio can be done from a variety of devices including still digital cameras, HDV, DV and AVCHD camcorders. If you work mainly with videos you will find all of the editing tools you need. Since our focus is photography, I'll focus mainly on the simplicity of editing a video made mostly from still images. The drag and drop capabilities makes placing your photos into the video extremely easy. Images can be rearranged and can have different duration of play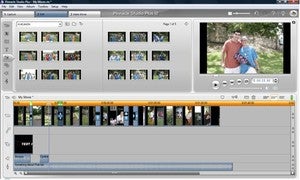 If you are looking for a program to edit videos or compile still images into a video, Pinnacle Studio 12 has it all. If you have never put your images into a video format this is the perfect program, it allows users to start with the basics and grow into the more advance steps as they become comfortable with the process.
The basic window you will build your video in has a number of things available.
Across the top is the main menu, just below that are tabs for the basic steps of building your video, Capture, Edit and Make Movie. Most of the work is done in the editing window. In the top left are all of the tools you need to go through your options for adding video clips, still shots, transitions, text and titles, montages, menus for DVDs, sound and music. The right hand corner is a window play your video, and preview how it's coming together. The bottom part of the screen is the window that you build your video. It is all pretty straight forward, once you understand the basics you can begin to work with the different editing aspects.
Uploading your digital videos, photos, and audio can be done from a variety of devices including still digital cameras, HDV, DV and AVCHD camcorders. If you work mainly with videos you will find all of the editing tools you need. Since our focus is photography, I'll focus mainly on the simplicity of editing a video made mostly from still images. The drag and drop capabilities makes placing your photos into the video extremely easy. Images can be rearranged and can have different duration of play times.
There are simple editing options are available like zooming, rotating or even removing red-eye, I suggest editing your images before compiling them into a video to simplify the process. One effect that is easy but can give your video a more professional look is the "pan-and-zoom effect interface." The pan-and-zoom can allow your still photos to appear to zoom in or out or pan across to give a smooth video look to a still shot. Transitions to move from one photo to another are available for all styles including a ripple transition that applies the same transition between multiple photos.
Once you have fine tuned your edits and are ready to output your movie Pinnacle Studio Plus version 12 has included new formats for output, you can select from disk, file, tape or web (a specific YouTube format is available). If you have worked with an earlier version of Pinnacle Studio you will find a number of new features in addition to the web publishing and new output formats, the audio editing has been improved, a simple to use montage is available along with complete HD workflow.
Whether you jump right in and look for answers later or take you time and actually follow the manual you will be pleased with the user guide, which covers all of the features completely in a direct and clear manner. With all Pinnacle Studio 12 offers, you can be well on your way to creating quality videos.
—Melissa Macatee
Contributing Blogger