My Trip to the Adobe Factory
More after the Jump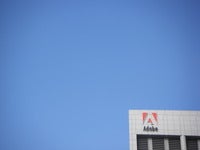 Last week, I went on a top-secret mission to Adobe's home in San Jose, California, to learn the secrets about some upcoming versions of its famous software. Unfortunately, I can't tell you any of them. Yet. Before I could see anything, I had to sign a non-disclosure agreement. So until it's legal to spill the beans, I'll share with you some of the non-secret highlights of my exclusive tour.
Adobe headquarters is located in beautiful downtown San Jose. The environmentally-friendly building is actually LEED certified, and everyone seems to be into doing things green down there. I was even picked up from the airport in a hybrid SUV! Every office has a big garbage can for recyclables and a tiny clip-on garbage can for food waste that actually gets composted.
In the courtyard of the building there's a basketball court and a bocce court. I was jealous. Additionally, Adobe employees not only get health insurance for themselves and their loved ones, but also for their pets. Here at Pop Photo, we don't even allow people to photograph their cats!
In the bowels of the building, there's a long room where Adobe tests its software on every possible printer/computer configurations. Engineers have to make sure it's going to work!
Kelly Castro works on the Lightroom team, and is also an incredible photographer. He's been doing a series of gritty, black-and-white portraits of men, several of whom also work at Adobe. Here he is shooting Photoshop Product Manager Bryan O'Neil Hughes.
More after the Jump