Letter of the Week: And it makes calls!
Dear Sirs,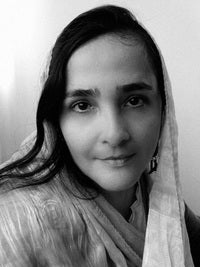 To: POP Editor
Subject: Cell-phone Cameras
Dear Sirs,
First, I would like to congratulate you for such a great photo magazine.
I regularly use a Canon Digital Rebel XT and a Panasonic Lumix FZ8 but
the attached image was shot with my Samsung SGH-D900 cell phone´s 3-MP
camera. This little device really changed my previous thoughts about
small in-phone image sensors and lenses.
She is my sister-in-law who, knowing my lifetime interest in
portraiture, loves to pose wearing ´exotic´ dresses.
Minor sharpening and B&W conversion in Photoshop CS3 using the Alien
Skin Exposure plug-in simulating Tri-X film, which also added some
beautiful grain to help smoothing skin blemishes (when I switched to
digital, a few years ago, I really missed the grainy look, surely much
better than chroma noise).
Probably, few readers indeed realize the good photographic capabilities
of simple cameras in the latest, cheap (200 bucks) cell phones, provided
a) enough light, b) proper image processing and c) prints no larger than
8 x 10 inches.
On the other hand, you have a handy camera always switched-on ready to
take a picture. It seems that everyday technology gives us an easy way
to hone our photographic skills. Now, we don´t need a large ground glass
behind a 8 x 10 Graflex to practice composition. Your cell phone´s LCD
will do, at least for starters. BTW, the Graflex cannot be used for
phone calls…
Best Regards,
Franco Della Prugna
Merida – Venezuela