Does This Photographer Look Dangerous?
Robinson and Bennett ended up with an apology from the Southampton city council — and a story to tell their grandchildren. — Jack Crager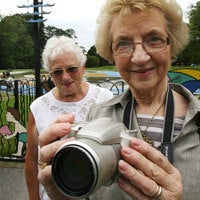 In the can't-make-this-up department, we came across a news story about Betty Robinson (left), an 82-year-old amateur photographer who was officially flagged down for shooting pictures of a British wading pool because she might be a pedophile. The pool was empty.
Robinson and her 69-year old friend Brenda Bennett were snapping photos of an unoccupied pool at Southampton Common. "I just thought it would make a jolly nice picture," Robinson told the Sun newspaper. They were chased off the property by a woman officer and told of the rules against "pedophile" behavior. "We are just a couple of old ladies, we are certainly not pedophiles," Robinson said.
Robinson and Bennett ended up with an apology from the Southampton city council — and a story to tell their grandchildren. — Jack Crager